Days of Our Lives Spoilers Week of 9-30-19: Tragedy Strikes Again!

Jack Ori at .
Salem is no stranger to tragedy. People get hurt, killed, and die on a regular basis, often senselessly.
And if you're planning on watch Days of Our Lives during the week of 9-30-2019, you might want to grab your tissues.
The spoiler video suggests two heartbreaking events.
First, a grief-stricken Doug tells Eli and Lani that Julie is gone while an unresponsive Julie sits slumped over in a chair.
Then Lani demands Vivian drop her weapon. When Vivian doesn't comply, Lani shoots... and Stefan falls over.
Related: Days of Our Lives: Why Social Messaging Matters
Stefan's shooting could permanently end Gabi and Stefan's relationship. Gabi is prone to cruelty in the name of revenge and she and Lani have been rivals for a long time. What will Gabi do if Stefan dies?
And will there be any repercussions for Lani for shooting Stefan? Hopefully this won't send her back into JJ's arms, since JJ struggled with suicidal feelings after he shot Theo!
The news from the spoiler video isn't all bad. There are two new pregnancies in Salem -- and they are sure to be drama-filled.
In one scene, Eric walks in on Sarah and Nicole talking and asks if Sarah is pregnant, while in the other Brady rejects Kristen after learning he is the father of her baby.
Hopefully Sarah's secret will finally be out. Let's hope she and Xander raise her baby and that Brady sticks to his resolve when it comes to Kristen!
NBC has also released 10 spoiler photos for Days of Our Lives during the week of 9-30-19. Check them out below and vote in our poll for which is your favorite spoiler!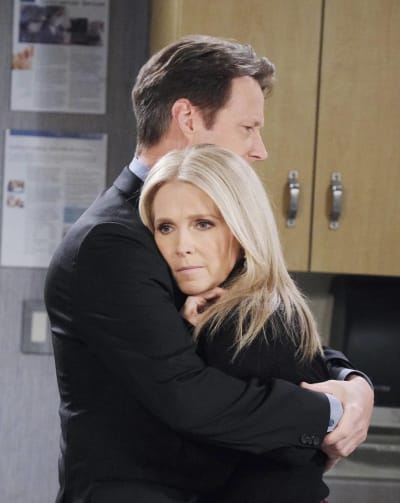 Jack and Jennifer have a heartfelt reunion with JJ.
Now that Jack's regained his memories, it's time for him to make amends with all the people he hurt while he was under Eve's control. He and JJ have already made some inroads while searching together for Jennifer, but will their reunion be smooth sailing?
After all, Jack made it clear to JJ that he was only helping Jennifer out for JJ's benefit. And he lied to him and ditched him to confront Shah by himself.
Related: 7 Ways Days Of Our Lives Could (And Should!) Be Using JJ Deveraux
Either way, this should give Casey Moss and Matthew Ashford some meaty material to work with! These two talented actors play off of each other well and will be fun to watch.

Doug and Hope have bad news for Julie.
Kayla jumped the gun by giving Eli permission to tell Doug and Julie about the potential donor heart before it was a done deal.
Now that Kate's woken up, Julie is again left without a donor heart, and it's up to Doug and Julie to deliver the bad news.

Related: Get True Crime Files by ID via Prime Video Channels for Over 1,000 Real-life Mystery & Suspense Shows!
Julie is already frustrated with being in the hospital, and getting agitated will only make her condition worse. She's already had a second heart attack over the stress of learning that Jennifer was missing.
Her reaction to this latest setback is sure to be emotional as well as leave her in worse shape than ever.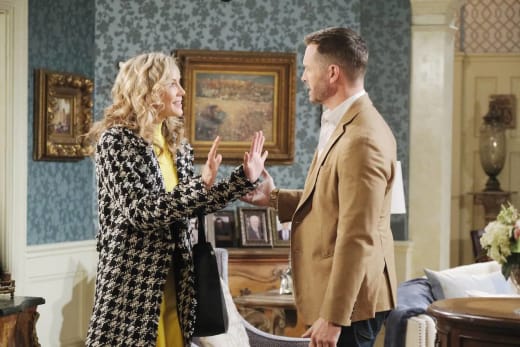 Kristen informs Brady she's pregnant with his child.
Kristen's latest crazy plan went in a different direction when she learned she was pregnant and didn't need to steal Sarah's embryo.
For weeks, she's been convinced that all she needs to do is tell Brady they're having a child together and his resistance to being with her will crumble.
It's not going to work quite like that, though. Brady will step up to be a father to his baby, but he doesn't want a relationship with Kristen regardless of her being the mother.
What will Kristen's next move be?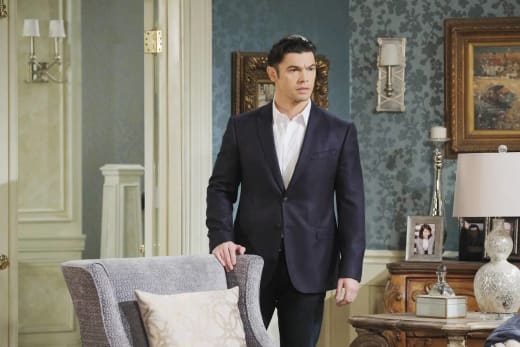 Xander grants Nicole's wish.
Nicole demanded a divorce from Xander the second she got back to Salem, so this spoiler must be referring to him granting it.
It's not surprising to anyone (except maybe Nicole) that Xander would acquiesce on that. After all, he's got his eye on Sarah, and how can he possibly woo her if he's still married to Nicole?
Besides, if Xander frees Nicole to be with Eric, it makes it that much less likely that Eric will pursue Sarah, so Xander can kill two birds with one stone here.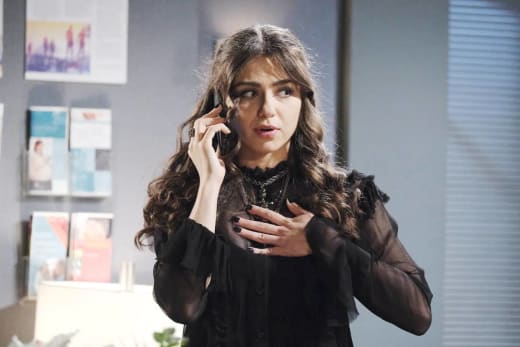 Ciara's life is threatened.
Here we go again. At least once a month, someone threatens Ciara's life.
The writers need to come up with some other type of story for Ciara and Ben! Ben is always either rescuing Ciara from someone or trying to convince her family to stop interfering with their relationship.
With Jordan back in Salem, it's likely she's the culprit, but Days of Our Lives may surprise us. That would be the only twist in this repeated storyline.
In the meantime, Ciara needs to hire a bodyguard so that this stops happening.

Nicole asks Sarah if she's pregnant.
Nicole and Sarah's friendship is a welcome change from the usual way women on Days of Our Lives interact with their rivals!
Nicole's concern is two-fold, though. She genuinely cares about her friend, but she's also insecure about whether Eric is truly over Sarah. So she wants to know if this is his baby or not.
The spoiler video shows Eric walking in on this conversation. Hopefully, that isn't another fake-out and Sarah's secret will be out by the end of the week!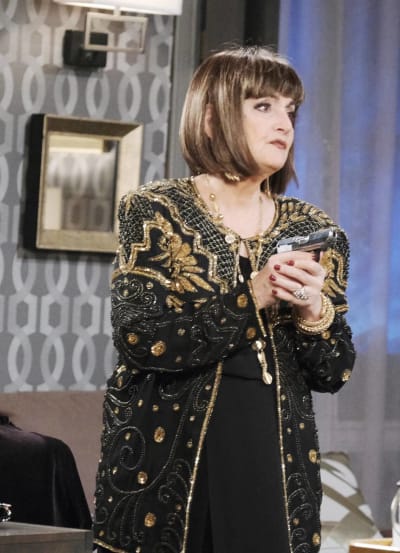 Tragedy strikes as Vivian tries to flee town.
The net closes around Vivian as Kate remembers who shot her. Vivian enlists Gabi's help (really, will that girl EVER learn?) to get out of Salem, but before she can, Lani shows up.
The two women draw their weapons, but unfortunately for Stefan, he gets in the middle and gets shot.
Will Vivian stick around to feel guilty about what she did to her son or will she take advantage of the chaos to run away so she doesn't end up in jail?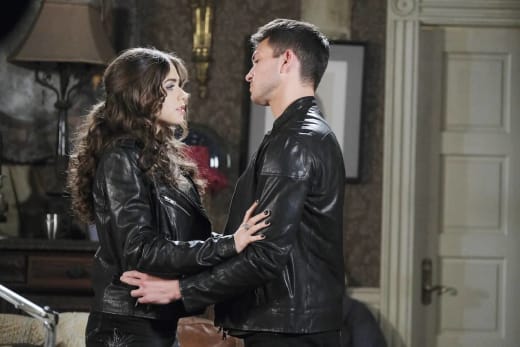 Ciara and Ben tell Lani their suspicions about Jordan.
Now that Ciara is again safe and sound, she and Ben head off to the police station to tell Lani that they think Jordan was to blame for the latest attack.
Lani likely won't be able to pin anything on Jordan right away. That would be too easy.
But is Jordan even the guilty one this time?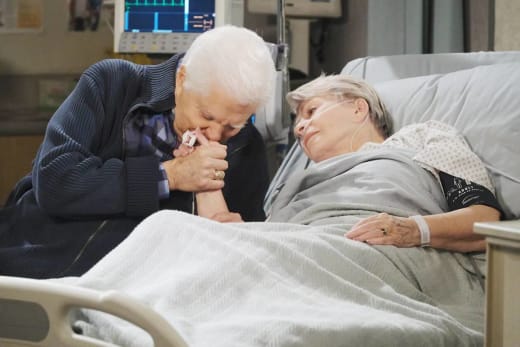 Juile passes out after reminiscing with Doug.
This is the spoiler fans are going to both love and hate!
Doug/Julie memories are always a wonderful nod to Days of Our Lives' history and long-time viewers will want to tune in for that.
But knowing that Julie will soon pass out and Doug will fear she is gone forever makes this spoiler incredibly bittersweet.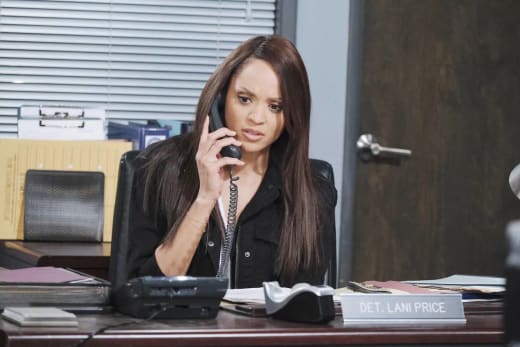 Lani is shaken when she realizes what she's done.
A police-involved shooting can be traumatic for both the victim and the shooter, as we saw when JJ shot Theo.
Now it's Lani's turn. After shooting Stefan instead of Vivian, what's next for her?
Will there be an inquiry? And will she allow her guilt and fear to interfere with her relationship with Eli?
Your turn, Days of Our Lives fanatics! Which spoiler are you most looking forward to?
Vote in our poll below and then post your thoughts in the comments. 
Want to chat about already-aired episodes? Check out our Days of Our Lives reviews and Days of Our Lives Round Table discussions!
Days of Our Lives airs on NBC on weekday afternoons. Check your local listings for airtimes.

Which  Days of Our Lives spoiler are you most looking forward to?
Jack Ori is a senior staff writer for TV Fanatic. His debut young adult novel, Reinventing Hannah, is available on Amazon. Follow him on Twitter.