Bag of Bones was one of my very favorite books by Stephen King, but my excitement for the A&E miniseries was tampered because I know bringing an adaptation of a tom to the screen can be the difference between night and day.
After this opening installment, I won't discuss the two together again. All I will say is that the initial credits did a disservice to the viewers.
In an attempt to whet your appetites, in shots meant to shock and awe you into wanting to watch, producers took some of the fun out of King's journey in to Michael Noonan, even if it was an adventure that was quite different that that of my old favorite.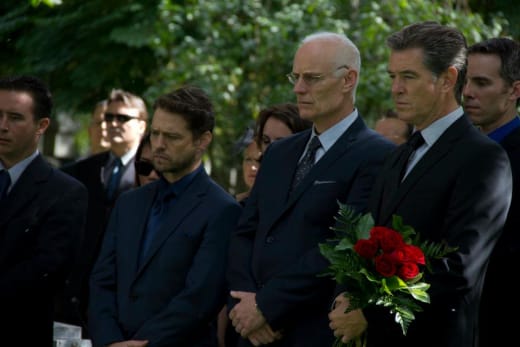 As most things in the world of King, this story takes place in the upper east coast and features a fair integration of character drama and the supernatural. I was a little disappointed in the pacing of the two hours. Much like a current favorite, American Horror Story, Noonan began hearing things go bump (or jingle) in the night. Not in one house, but in two.
His nightmares were verging on reality, and if they didn't actually show him waking from them, it would have been confusing to know what parts of his experiences were possibly dreams and which were fact. Because he looked at her photos a lot, and was happy to hear her bell tone of yes, "one if yes, two if no," we were lead to believe he and his deceased wife Johanna were deeply in love.
Frankly, it would be impossible not to be in said state with the lovely Annabeth Gish. She has such a wholesomeness and beauty about her that I would be hard pressed to not to fall for her. Her character, Jo, lived a life when Michael was writing that didn't include him. That life was in Dark Score. She had an art studio in the house they inherited from Michael's father and the affection of everyone in town.
Immediately upon his arrival at the house his wife held so dear, things were clearly amiss. From letters moving on the refrigerator to leave him messages (while he was in front of them, no less), to the townspeople warning him to steer clear of the local elderly madman, Max Devore, his stay was hardly pleasant.
At the heart of the story was the music of Sara Tidwell. She was a black singer back in the day. Not much has been revealed about her, other than that Jo was painting her portrait and listening to her music, and that the music demanded to be heard. Something tells me her come hither attitude was merely an act to bring the audience in, and we will learn her true purpose as the series concludes.
It seemed like a mere sideline, Michael meeting Mattie Devore. She's the mother of Max Devore's granddaughter and he wants custody. His son went "mad" and tried to drown their daughter, Kyra. The only way to stop him was for Mattie to kill him in defense of her child. Other than the fact that Old Man Devore is a multimillionaire and seemingly eccentric, I can't say I would blame him for having concerns about Kyra. After all, when three people are in a room and one doesn't come out alive, you lose part of the explanation.
A running theme throughout the first two hours was drowning. The cabin was on a lake, so that could explain it. But it wouldn't explain the last scene, when Michael noticed dirty water in his tub, went to pull the plug and was instead himself pulled toward the water by what seemed like a little girl. Was it live or a dream? I guess we won't know until tomorrow.
I lied. I said I wouldn't mention the book again, but I'm going to close out with this last take. Halfway through the book, I was far more invested in the characters and found Michael to be a better man than he has been portrayed so far in the miniseries. What are your thoughts? Whether you have or haven't read the book, did the first two hours suck you in? Are you straight on the players and have a sense of the general direction we will see in the conclusion tomorrow night?
If not for the opening credits, I don't believe I would be nearly as in tune with where we are heading, and I would have preferred that to be told by story instead of flashes of what is to come.
Carissa Pavlica is the managing editor and a staff writer for TV Fanatic. She's a member of the Broadcast Television Journalists Association (BTJA), enjoys mentoring writers, wine, and passionately discussing the nuances of television. Follow her on Twitter and email her here at TV Fanatic.