Chord Overstreet makes his return to Glee on next week's "Hold on to Sixteen," and the actor is open about the reasons why he didn't accept the show's offer to appear right away on season three of the Fox hit.
"I wanted to do a bunch of recording and take time to do that," the 22-year-old actor/singer tells EW. "Luckily, everything kind of opened back up [in my schedule] so I could jump back in."
And jump back in he will, literally: look for Sam to take up synchronized swimming.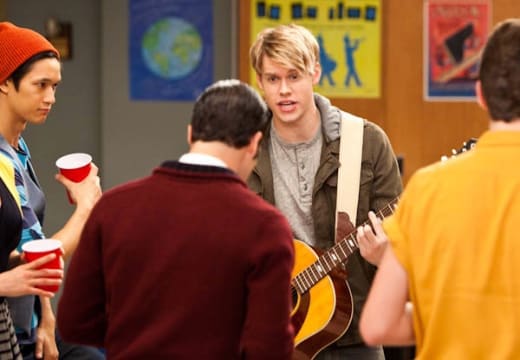 The official Fox preview for the episode alludes to where Finn and Rachel come across their former singing friend, while Overstreet says he's asked to help New Directions win Sectionals.
"He tries to kind of pick everything back up where he left off and he realizes that everything has changed a little bit since he's gone. He has to kind of re-adapt a little bit."
But, don't worry, not everything has changed: look for Santana to still make fun of the kid she refers to as "Trouty Mouth." For how long will Sam stick around this time?
"We're playing it by ear, having fun and just enjoying doing that and doing music also," Overstreet says.