With so many shows either on hiatus or having just wrapped up their most recent seasons, TV Fanatic is taking a look back... along with a slight look forward.
We've already handed out grades to 2 Broke Girls, Supernatural and The Walking Dead, among other shows. Now, critic Dan Forcella takes us through the highs and lows of season two of Covert Affairs...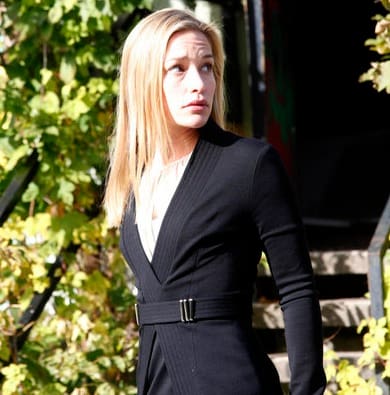 Best Episode: "Half a World Away."  This was the best of episode of the second season, and the greatest in Covert Affairs' history. Finally learning how Auggie lost his sight, and getting more of a back story on this lovable character, was a long time coming for fans. The hour did not disappoint.
Worst Episode: "What's the Frequency, Kenneth?" Covert Affairs has yet to swing for the fences and miss, but occasionally the series will just spit out a less than interesting episode. "What's the Frequency, Kenneth?" was a bit too boring to keep our interest as we waited for the second season to come to a conclusion.
Best Character: Auggie. His talent, his charisma, and, let's face it, the way he looks with his shirt off, combine to make Auggie Anderson the most fun character to watch on Covert Affairs. None of that changed during this second season, as Christopher Gorham continued to help Annie, and even had time to begin a serious relationship of his own.
Worst Character: Jai. At midseason, I stated that Covert Affairs didn't have a bad character, but that changed over this winter's run. Jai Wilcox became insufferable. With his constant efforts to make his way to the top, he has annoyed everyone... including the audience.
Most Interesting Development: Auggie's love life. It took until the near-end of the second season, but Auggie Anderson finally quit his playboy ways and settled down with Parker. It was nice to see him finally have some true happiness, but it was also fantastic to see what it did to his relationship with Annie.
Biggest Surprise: Annie's kill. I'm not sure which I was more surprised by: the fact that it took until the season two finale to have Annie to finally kill an enemy, or the fact that she actually did it! It was pretty shocking to see her actually pull the trigger, but I'm glad she did it to save her sister. What a nice way to start.
Most Underutilized Characters: Arthur and Joan. I could use a ton more screen time for Arthur and Joan next season. With how great Peter Gallagher and Kari Matchett are as actors, Covert Affairs might benefit from being a bit more of ensemble. Let these two characters have more than one episode featuring them a season, and the show might make a jump from good to great.
Overall Grade: B. I'm still not happy with the way the season was split up into runs of 10 episodes and six episodes, but overall it was still very enjoyable. In 2012, I hope they can figure out a way to keep the third season together as one stretch run. 
Dan Forcella is a TV Fanatic Staff Writer. Follow him on Twitter.