When the news broke, I wasn't a fan of Covert Affairs splitting up its second season into summer and winter segments, especially knowing that the back half of the order would consist of only six episodes.
Following the third straight mediocre hour - "What's The Frequency Kenneth?" - I stand by my prior claim: this was a bad idea.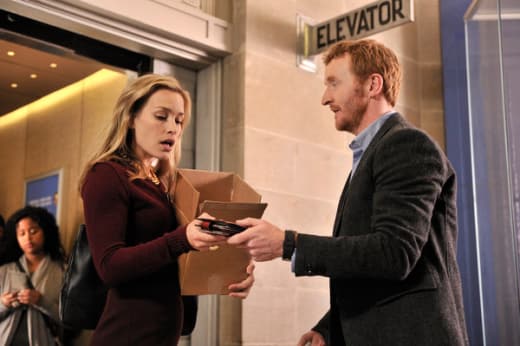 Three out of six is a troubling trend, one I'd rather not see out of Covert Affairs. Luckily, next week's season finale - previewed HERE -can make up for most of that with an all-out classic.
It's not that "What's the Frequency, Kenneth" wasn't enjoyable. It just didn't force any emotions out of me. I wasn't excited during the few action sequences, I didn't get mad at Jai for his lackluster efforts to pull a fast one and I certainly didn't get sad that Parker had to leave Auggie for the Peace Corps.
The main plot had all the workings of an interesting story - a British MI-6 pretending to be on official business, sneaking around the Smithsonian like Ben Stiller, and of course, escaping from the trunk of a car - but I found it to be a bit too boring.
In regards to Jai, I agree with Jeffrey Kirkpatrick, who did a great job filling in for me while I stuffed my face with turkey during Thanksgiving week. I continue to not care what the character is doing. Ever.
The five minutes of action that Gregory Itzin was in were more fascinating than anything I've seen out of Jai the entire season. Henry's attitude toward his son is extremely interesting. When he told Jai "At the CIA you get a very small window to prove yourself, and I fear yours is closing," I had high hopes.
Unfortunately, Jai then continued to take intriguing stories and make them extremely forgettable.
Then there was the Auggie and Parker bit. If they wanted the audience to feel sad in this situation, they needed to put a lot more effort into building this relationship. Maybe they've been together longer than it seems, due to the space between episodes or what-not, but the amount of time we've seen them spend quality time together has been minimal. I'm not going to get emotional over a brand new couple that has spent a total of eight minutes together during the past four episodes.
"What's the Frequency, Kenneth" was still fun to watch, as all Covert Affairs episodes are. Annie being happy that Kenneth was promoted to field agent was especially rewarding. In a weird way, the girl saw some of herself in Ken. They had similar instincts, so when he succeeded, it was like a win for all of them.
What did you all think of the episode? What do you expect/hope to see in the second season finale? And was this six-episode sub-season a good or bad idea?
Dan Forcella is a TV Fanatic Staff Writer. Follow him on Twitter.