The May finale of CSI brought with it the end of two eras: Nate Haskell as a serial killer; and Lawrence Fishburne as Ray Langston.
When CBS filled the latter void with Ted Danson, I wondered if the man responsible for Sam Malone and Dr. Becker could pull off such a serious role as D.B. Russell. But the result has been a welcome and refreshing change that makes me excited to review CSI every Wednesday night for the rest of the season.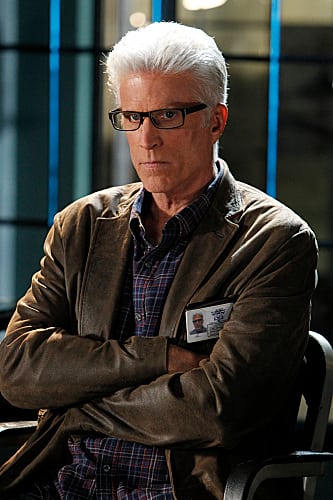 D.B. has quirks that reminded me of Grissom. He's a lot lighter and more bohemian than Langston ever could have been. The writers also brought him in at the top of the investigative food chain, with Catherine being demoted due to her involvement with Langston's adventure in Los Angeles.
Another new team member is Elisabeth Harnois' Morgan Brody, who had to leave Los Angeles after helping Langston and has returned to Las Vegas to reconnect with her father, Conrad Ecklie. While I would love to have seen Wendy Simms (Liz Vassey) re-enter the fold - her departure was both abrupt and frustrating, given her slow burn romance with Hodges - Morgan has been a great addition.
So, as I prepare to launch weekly CSI reviews beginning this Wednesday, here's a look back at the ups and downs of the season so far:
Best Storyline Russell and his family adapting to Las Vegas, from a phone call in the middle of a case looking for a farmer's market to watching him with interact with his son.
Best Episode "Brain Doe." Any episode that starts with "what's with this extra brain down here" can't really go wrong, can it?
Best Character Interaction Ecklie and Morgan after she is rescued from the helicopter crash in "CSI Down." Nothing starts the healing between father and daughter like a near-death experience
Weakest Storyline Catherine being offered a position at The Pentagon. She has gone weeks without an answer and Russell seems to have no idea she's been recommended, and that would have been Liston's first stop.
Weakest Episode. "Crime after Crime." The introduction of throwaway police characters for a cop turned vigilant on his deathbed left me confused and needing a map.
Strangest Character Interaction Russell coming down on Stokes for not having some reports done. The scene was totally out of character for Russell and seemed wedged in or forced into the story.
Still, overall, the season to date earns a strong A- from yours truly. I hope you join me each week going forward to find out what else D.B. and company have in store.
Jim G. is a TV Fanatic Staff Writer. Follow him on Twitter.