Confession time: TV Fanatic was late to the Happy Endings game. We didn't even start covering the sitcom until a few weeks ago.
But we couldn't be more on board at this point, as evidenced by the following midseason report card, courtesy of super fan/critic, Leigh Raines. Compare it to our assessment of its ABC brethren, Modern Family, and evaluate the hilarious series now...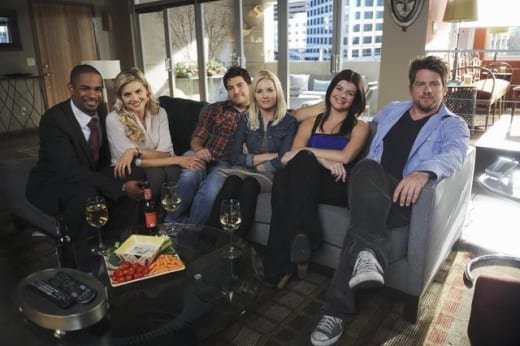 Favorite Character: Max. Adam Pally, enough said. Next question.
Least Favorite Character: Alex. She's not a bad character AT ALL. I just think she's underdeveloped. I hope to see more from her.
Favorite Episode: "The Code War." The work wife and Brad's multiple names for Vanessa were great, but Max and Dave took the cake. Plus, I think/hope everyone learned a really important lesson: Never date your best friend's ex... unless you want to look like Keri Russell when she cut all her hair off in Felicity.
Least Favorite Episode: "Full Court Dress." Even though that dress was hideous, Jane's lack of faith in Alex makes me sad. The mailman was nuts. The ending with the ashes mix up still has me gagging.
Favorite Quote: It's more than just a quote, it's the entire conversation from "The Code War" when Penny and Alex finally see Dave's perm. Yes Dave, you did look like a Quaalude dealer.
Surprising Development: Max's kissing skills make the straight girls go cray cray! Alex was pawing him like a lunatic after he planted one on her.
Hopes for 2012: More of the same AH-MAH-ZINGness. I also hope this hilarious show gets a bigger fanbase because they deserve it! Aside from that, Alex needs better storylines, Jane needs to loosen, and Max needs a love interest.

Overall Grade: Cold hard A baby. This is my favorite comedy so far this year.
Your turn, readers: Agree? Disagree? Weigh in with a grade for Happy Endings now!