For those of you who didn't spend the week off from Happy Endings with multiple viewings of Elisha Cuthbert's The Girl Next Door (thanks, E!), I hope "The Code War" helped make it up to you. Was it just me or was Brad's dialogue on fire this week?
Maybe it was his whole monologue with the different nicknames he had for Vanessa, but Brad had me cracking up more than usual. Too bad his work wife didn't find it as funny as I did. Oops, I meant work daughter.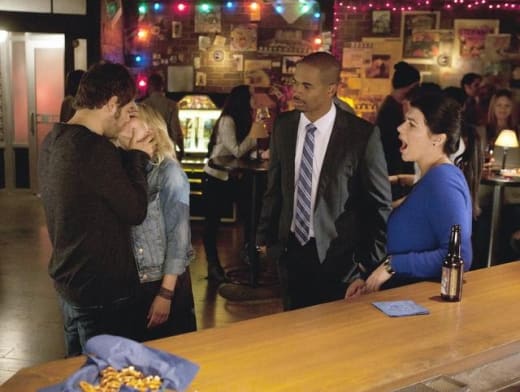 The only thing that saved Brad during that embarrassing mix up was the presence of Steve the HR guy. People say that confidence is a sexy attribute, but there was nothing sexy about those tighty whitey underwear and his abuse of power as the head of HR. Skeeve! I would NOT wanna work for him!
Someone who I wouldn't mind seeing in his underwear again is Dave. Hello, six-pack, where have you been hiding? Max cutting his v-necks into deeper v-necks was just doing Dave a favor.
The only thing more amazing than "The Code War" itself was Dave's perm. All of the insults were hilarious, but Penny knocked it out of the park with that line about Keri Russell's hair when she ruined Felicity. Oh my goodness, who remembers when that happened? That was like the Britney Spears head-shaving of its time.
"The Code War" might have been funny but there is nothing funny about breaking "The Code." Dating your friend's ex is not kosher, even if said friend now bats for the other team. The friendship bible is very real. Just as real as your ex hating your other ex.
Penny's over the top efforts to size up Angie were not that over the top to be honest. Please, it's not like the writers could film her Facebook stalking the girl, but I'm sure Penny took care of that anyway. Any girl who says she's not curious about the girl who came before her is straight up bluffing.
But Alex? Her crush on Max was too exaggerated. Plus, there was something about that Harmonica scene that made me cringe. Nobody is that good of a kisser. Or maybe I just haven't met him yet?
Feel free to add any Dave's perm insults or Vanessa nicknames to the favorite quotes section. There were just too many to count!