The Thriller(er) is over for two contestants. A pair of hopefuls were asked to Beat It back home tonight. Indeed, when a couple X Factor finalists are asked tomorrow, "Will You Be There?" next week, their answer will be no.
Awful Michael Jackson puns aside, who were the unlucky tandem?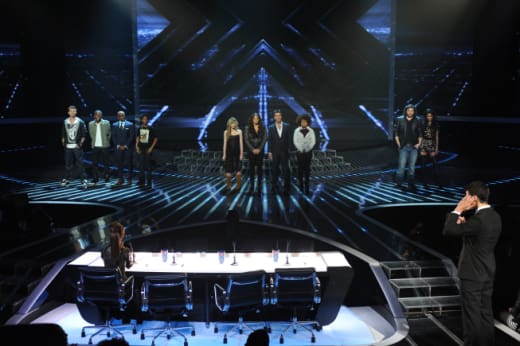 Early on in the broadcast, Melanie Amaro, Rachel Crow and Chris Rene were passed through as the top three vote-getters. Little time was then wasted in eliminating Astro, who took the news a lot better than he did two weeks ago when he found himself in the bottom pairing.
It then came down to 15-year old Drew and dancing Marcus, with Simon, of course, showing support for his protege; LA and Nicole selecting Drew and Paula, reluctantly, agreeing. So long, talented young one.
"I have a lot to show you guys, and it's a lot more upbeat," Drew said, sobbing, upon learning the news, reacting to criticism that her performances were too sullen, especially her final rendition of "Billie Jean."
DO YOU AGREE WITH THESE RESULTS?
Matt Richenthal is the Editor in Chief of TV Fanatic. Follow him on Twitter and on Google+.