The X Factor went from five to four tonight, eliminating one more contestant before next week's semifinals. After listening to performances by two people who would be in the Over 30s group on this show - Lenny Kravitz and Mary J. Blige - Steve Jones and the gang got to the results.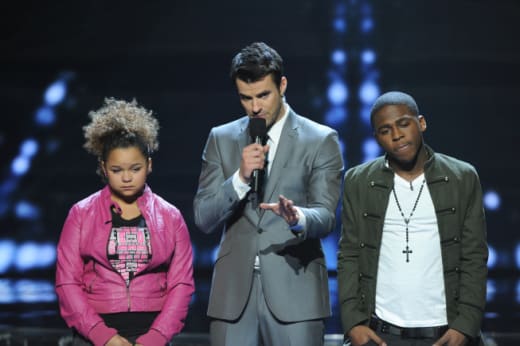 In no particular order, it was revealed that Josh Krajcik, Chris Rene, and Melanie Amaro were safe for another week. Not a huge surprise here, as Marcus Canty is always a bottom dweller and Rachel Crow finished with the least amount of votes from America.
That's when things got interesting. Both contestants sang songs from Top 11 week. Marcus was great with his second performance of "I'm Going Down," but Rachel was ridiculously awesome in her second outing with "I Would Rather Go Blind." I gave her a 9/10 and touted Rachel "BEST OF THE NIGHT" with this song a couple weeks ago, and she might have been even better here. There was just so much emotion in the performance as she feared elimination.
As always, it next went to the judges.  Let's see what they decided...
L.A. wanted to send home Rachel.
Simon quickly countered by sending home Marcus.
Then, Paula admitted she was moved by Rachel's performance and had to send Marcus home.
Finally, Nicole - who obviously thought Rachel deserved to stay but didn't want to be "the one" to give Marcus the boot - picked to make it a DEADLOCK by sending Rachel home.
So with a 2-2 judges' vote, we got to the second Deadlock of the season, and who did America send home? Surprise, Surprise! Rachel Crow left The X Factor this week, which means Marcus Canty survives once more, and will back for next week's Final Four.
Then came my favorite moment of the night, and maybe of the entire season. After Rachel realized she was done, she burst into cries that could be heard a mile away, and pleaded with her mother to promise her that everything was going to be okay. She was very sad, and that type of behavior is reasonable for a 13-year old.
What Steve Jones did next had me rolling on the floor laughing. He tried to go in with the microphone to get a sound bite from Rachel, which would have been nothing but loud, annoying cries, only to then back off quickly. He pushed his earphone tighter into his ear, as he was most likely listening to producers and directors telling him to talk to Rachel, and Steve just shook his head and mouthed "Nope." The unintentional comedy is through the roof with reality television.
I'm sad to see Rachel go. After a brilliant "save me" performance, and the fact that Marcus had been in the bottom two three straight weeks, it would have been easier to say goodbye to Mr. Canty. And now, L.A. is the only one with two acts left, so he is going to be even more insufferable.
Next week's the final four, but how did you feel about how the final five went down? Weigh in below.
Dan Forcella is a TV Fanatic Staff Writer. Follow him on Twitter.