Mad Men Scoop: Jon Hamm on Season 5 Premiere, Peggy and... The Muppets
Lisa Palmer at .
Wearing a black tailored suit, swirling a drink in his right hand, Jon Hamm might as well be Don Draper. But Hamm is only drinking water with lime at the Television Critics Association party and he's fielding questions deftly, unlike the character he plays on Mad Men, whose answers to a journalist on the season four premiere resulted in trouble for his firm.
As approximately 10 reporters pin Hamm in a corner with their recording devices thrust in his face, he speaks eagerly about Draper, his love for his day job and the relationship between Peggy and Don.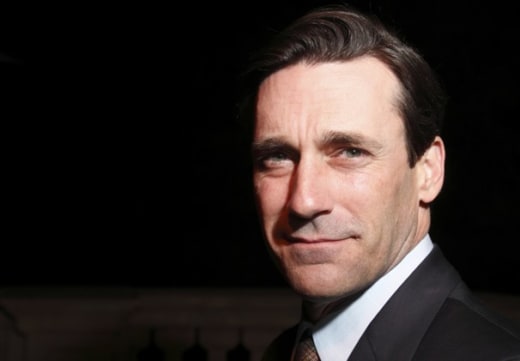 Anyone who has ever caught a glimpse of Mad Men knows that alcohol plays an important role in the series, especially with Don.
"I think he has a dangerous relationship with alcohol that a lot of creative people have. And fill in the blank with either alcohol or whatever. It's a depressant, yet it uninhibits you creatively. It's a fine line and Don has crossed it many times... [but] Don recognized that and seems to have backed away from the edge a bit."
Draper, of course, also loves women. In the season four finale, we were left with the indelible image of Don in bed with his brand new twenty-something fiancé, Megan. She's sleeping on his chest and he turns and stares out the window thoughtfully. When prodded about just what Draper may have been pondering at that moment, Hamm slyly avoided the question.
"Yes, he was in fact thinking of something," the actor admitted.
I'd be lying if I said I wasn't disappointed in Draper with the way season four ended. I kept asking myself how it is that Don is so creative with his work, but ends up seemingly moving backwards in his personal life, becoming engaged to his secretary in record time. Responded Hamm to this quasi paradox: 
"Don makes his money and his livelihood on being creatively ahead of the curve, and finding out what makes people tick. And what happens when you get older? And there's another generation of people coming up right behind you who are out-moving you and out-thinking you? What happens to a creative person? Don is getting older. It's not The Simpsons where everyone stays the same age 20 years in. People age and we try and depict that realistically."
I wasn't the only one who had a problem with Don marrying his secretary.  Fresh from finding out her pitch to Topaz saved their failing agency, Peggy rushes in to tell Don of her victory, expecting her news to be the top story. 
And then she finds out Don is getting married. To his secretary. Hamm spoke about the importance of Peggy and her relationship with Don:
"I think in the world of the show we see the office through Peggy's eyes. She's the new girl and we see her from her very first day... And we've watched through over 50 episodes of television her grow and become more confident and we've watched Don alternately shout at her and correct her and not be very nice to her but also be profoundly nice to her...
"I think Peggy is very important to Don. And I think you saw at the end of season three, when the firm blows up and they have to start all over again, he says 'If you leave, I'll spend the rest of my life trying to hire you back.'  And I think that sums up relationship that Don and Peggy have."
As far as Peggy's opinion affecting Don's impending nuptials? Hamm remained mum, but did offer a rare tease into what we may see this spring:
"We'll see. Certainly something [is] explored in season five. We don't really know. And I'll be as honest as I can, but Peggy and Don are very close. And Peggy has opinions and Don has opinions."
Mad Men has been off the air forever, of course, but finally returns on March 25 with a two-hour premiere titled "A Little Kiss." Would Hamm satiate our curiosity with a few spoilers? Gladly...
"It takes place on ice. With several musical numbers. And The Muppets."