Patrick Dempsey to Return to Grey's Anatomy on One Condition ...
Steve Marsi at .
Looks like there's at least a reasonable chance that Grey's Anatomy star Patrick Dempsey will be back on the ABC medical drama next season after all. But there is one catch, and it's a fairly big one.
"The biggest point for me in negotiations is getting time off to come race, so if I don't miss races, I'll probably stay on Grey's Anatomy," Dempsey said Sunday at the Daytona International Speedway.
There, he was testing his car for an upcoming race. He's more passionate these days about racing than acting, and makes no secret of the possibility that the current season of Grey's could be it for him.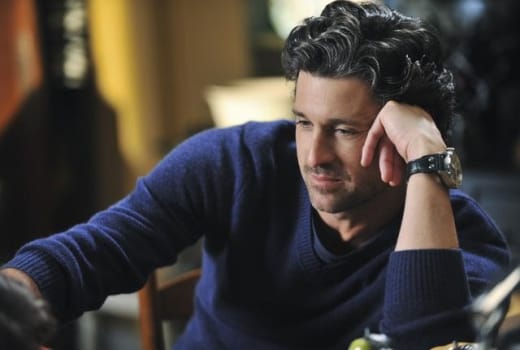 Dempsey, who turns 46 on Friday, said fairly clearly at one point that he was done after Season 8, but his publicist later downplayed those comments, saying Patrick meant solely that his contract is up.
In any case, don't pen your goodbyes to Derek Shepherd just yet.
"The show's doing really well," he said. "We were #1 on Thursday night, so it still has a lot of legs. ABC hasn't had a show this year that has kind of stepped up. We're certainly talking about the future."
Racing, however, is "my real passion," he said, aside from his family. "But I also enjoy the show. It keeps me in town so I can be around my family. So we'll see. Hopefully we can work out a deal."
Dempsey will show off his racing prowess in the Grand-AM Series' Rolex 24 (he placed third last year) January 28 and 29. Hopefully, McDreamy will also be a fixture on Thursday nights for years to come.
Steve Marsi is the Managing Editor of TV Fanatic. Follow him on Google+ or email him here.