Emilie de Ravin Interview: Belle of the Once Upon a Time Ball
Matt Richenthal at .
It's a tale as old as time, but it's one that will be given a special twist on Once Upon a Time this Sunday.
On the episode "Skin Deep," former Lost star Emilie de Ravin will come on board as Belle from Beauty and the Beast. It's an apt role for the gorgeous actress, but you may be shocked to learn who the series has set up as her beastly soulmate:
Rumpelstiltskin.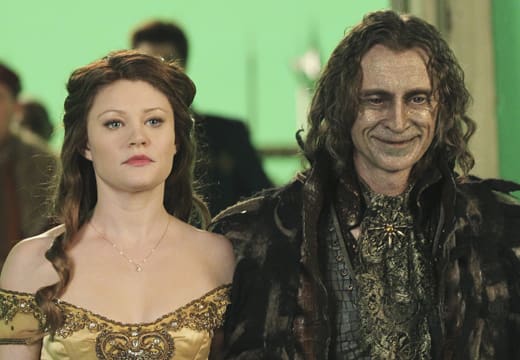 "It's beautiful and slow the way they begin to like each other," de Ravin previewed to me over the phone. "She's really scared at first... he's bemused by her demeanor... and they eventually form an intimate relationship where she can see what others don't."
As if often the case when Once Upon a Time tackles a classic fairy tale, viewers shouldn't expect this one to remain true to the animation, de Ravin says, though some basic facts are similar.
And one fact that cannot be denied: Robert Carlyle is incredible in the role of Rumpelstiltskin.
"He's amazing," the actress says. "He gives the character so much power, but in this episode his walls tumble down. It's scary for him. And he plays that so beautifully."
It must be weird to portray such an iconic character, right? One who has been around for so many years, yet one who doesn't actually exist?
Absolutely, de Ravin agreed, although she expressed gratitude that Belle has never been played by an actress before, so there's no performance with which she'll be compared.
"My conversation with [writer Adam Horowitz] was really more about who this person is," de Ravin said. "And we wanted her to be strong, intelligent, brave, passionate and non-judgmental. She can see through people and that's what happens with Rumpelstiltskin."
Watch the ABC preview for "Skin Deep" now and return to TV Fanatic Sunday night for a detailed review of the episode.
Matt Richenthal is the Editor in Chief of TV Fanatic. Follow him on Twitter and on Google+.