The House series finale photos that were released by Fox this week didn't exactly reveal much about what's to come on May 21.
So can creator David Shore shed some light on the ominously-titled "Everybody Dies?"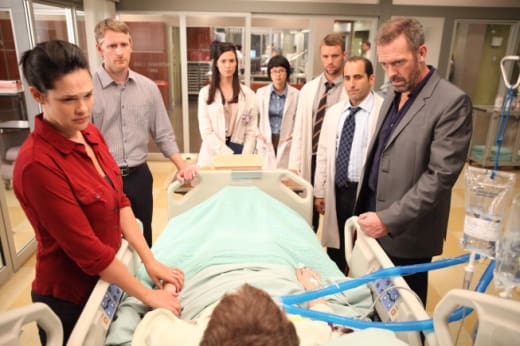 "We never do happy endings," Shore told TV Fanatic and other outlets today on a conference call. "But we also try not to simply do miserable endings. Bittersweet is the most you can hope for us."
Leading up to this bittersweet conclusion, House will air "Holding On" this Monday, a ridiculously emotional episode we've already screened online.
"House is put into a very difficult position, and it's about him assessing his future," Shore said of the final few moments of the penultimate installment, which serve as a beginning to the very end.
"We developed this idea months and months ago, the idea for this final episode, which when you see it it'll sort of become clear. There were many things I liked about this idea. It allowed us to explore who he was and the nature of this character and take a look at who he is as a human being and his values as a human being. It also allowed us to naturally bring back other people, so I started making phone calls."
And those who answered the call? Jennifer Morrison, Amber Tamblyn, Kal Penn and Olivia Wilde. Each will appear on the finale.
Lisa Edelstein, of course, will not.
"I'm not big on regrets," Shore said of how he handled Huddy as a couple. "That's not to say it was perfect. I do fundamentally believe that we had to do it. I know a lot of people think we could've done it better, a lot of people think we shouldn't have done it, a lot of people think once we did do it we should have kept them together. I think it was going to be a lightning rod no matter what we did. You can't have sexual tension go on and on and on and on. It was there from the beginning and I enjoyed working with it from the beginning, but at a certain point we had to put them together."
Matt Richenthal is the Editor in Chief of TV Fanatic. Follow him on Twitter and on Google+.