It's that time of the year again, when TV Fanatic takes a look back at various site favorites and hands out end-of-the-season grades.
So far, we've offered up critiques on The Vampire Diaries, The Good Wife and Person of Interest. Up next? Dana Delany and Body of Proof Season 2.
-------------------------------------------
A solid cast of characters = Grade A. The cast was what sets Body of Proof apart from other crime procedurals. Delany is a powerhouse as Dr. Megan Hunt, who is frequently the smartest person in a room but still manages to come off more human than Bones' Temperance Brennan. She's more comfortable examining dead bodies than dealing with live ones, yet her interactions with fellow coworkers were the best parts of the show.
And those coworkers held their own. Frequently the best lines in an episode went to Bud and Sam or Ethan and Curtis. Speaking of the big guy, we really must see more of Curtis next season.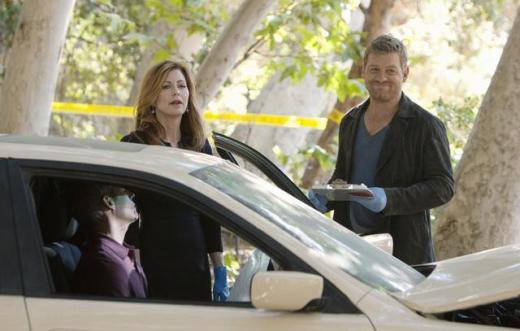 Crime stories = Grade B-. Some stories were average, like the body in the freezer in "Cold Blooded," which was only elevated by the cast and guest star Robert Picardo. Others ranged from entertaining to downright scary, such as quick spreading plague in the two-parter "Going Viral" or the case of the missing brain in the finale. If you looked at the season as a whole, the crime stories came out just above average.
Character stories = Grade C. Some were downright painful. Like Kate dating Megan's ex. Not only did we have to endure far more scenes with Todd than I ever wanted, we were subjected to countless episodes of bickering between Megan and Kate. These are smart characters. They deserved better.
I loved Curtis but his promotion felt rushed and then his quick demotion made that entire storyline feel like a silly plot contrivance. As if the writers weren't sure what to do with this entertaining character. For next season I'd love to see more of Curtis, both in the lab and outside of it.
Bud's a great, complex character but his journey towards fatherhood seemed to over shadow everything else, including partner Sam. I'd like to see them get equal time and have both characters grow their relationship with Megan.
The worst storyline this season was Peter's hookup with Dani. These two couldn't seem to figure out if they were a fling or something more and then suddenly Peter's left mourning the death of a girlfriend he barely knew. 
Dani was a fun, quirky character who could have been way more interesting with geeky Ethan. Instead, Peter and Dani made me cringe and Ethan was left pining away for a girl he never had a chance with.
Speaking of Peter, he was my weak link. In part due to the Dani storyline but even his adoption arc fell flat. Perhaps next season we could see Peter and Megan expand their friendship. I don't need them to be lovers, at least not yet, but I would like to see this relationship grow. Of course Peter has to survive first.
I've always had mixed feelings about Lacy. There were moments I enjoyed her, such as her horse riding knowledge that realistically helped a case and her uneasy interactions with Bud. But at other times she was simply the whiny teenager. Her diabetes storyline was a definite plus but we barely touched the surface this season. I'm looking forward to seeing where they take it next year.
Year end grade = B.
Body of Proof earned a third season but it will be short one. With ratings for season two being somewhat iffy, ABC awarded it a return of only 13 episodes and a spot on the schedule for mid-season next year. That's a long time for fans to wait for its return.

When it does come back, will you be watching?
C. Orlando is a TV Fanatic Staff Writer. Follow her on Twitter.