Take Bill and Hillary Clinton, trade daughter Chelsea for hot twin brothers, add a touch of show business, pump up the drama, throw in a boozy spunky grandmother - and you've got the Hammonds of Political Animals, the six-episode USA miniseries that kicks off July 15.
On Monday night in New York City, the network set up a screening for its newest sure-to-be hit. Complete with cast members and cocktails, journalists and friends were given a peek at the upcoming premiere. 
Read on for a rundown of the experience and the series in general...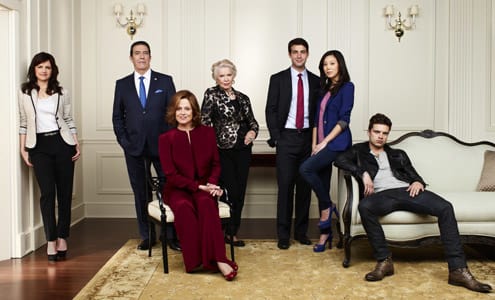 Sigourney Weaver has been perfectly cast as Elaine Hammond. After serving eight years as the First Lady, and 30 years to a philandering husband, Elaine has decided to pursue her own political aspirations. After losing the Presidential primary, she accepts the position of Secretary of State. Sound familiar?
As famous for her pantsuits as she is for her husband's affairs, Elaine embodies Hillary but takes it one step further in the sass department. With a mother like Margaret (Ellen Burstyn) in her corner, you can't blame her for going the extra mile, but with Elaine her powerful aura is inherent. She's just got that It-factor.
First Family twins Douglas and TJ (James Wolk and Sebastian Stan, respectively) are as yummy on-screen as they are off. They also up the drama to a place Chelsea Clinton certainly never took it.
Douglas is the prodigal son - loyal, smart and ambitious - who now serves as his mother's Chief of Staff. TJ is the wild card, still trying to find his footing after a lifetime of addiction and the pressure of being the first openly gay child in the White House. Both sons bring a lot to the scandalous table, as the Hammonds are not a family whose members are satisfied with serving as the back up entertainment.
The Hammonds are famous and powerful, but not without their demons. Patriarch and ex-President Bud (Ciaran Hinds) also seems to embody more of a cowboy, ballsy persona than Bill ever did. Could a certain ex-VP candidate who often went rogue have inspired the character? Maybe, but only slightly. Bud is nothing like Sarah Palin.
For starters, he is a Democrat. On the whole, he actually did his job well and, despite his reputation for extramarital romance, remained a very popular President both in office and out of it.
Last, but certainly not least, is seriously gorgeous journalist Susan (Carla Gugino). Susan got famous for her scathing columns about Bud's affairs, but I think she is the character who will surprise people the most. Despite her steey exterior, she is really just a vulnerable woman with feminist ambitions. 
Overall, Political Animals is the fictional story of the Clintons... on steroids. It's not without its predictable moments, but I do believe you will be thoroughly entertained.