Jane Rizzoli can't catch a break. First, Dean goes behind her back to catch Paddy. I know Dean has his fans, especially the folks who have read the books, but I've never liked him on this show.
Then Jane's father wanders back home after a year just to try and annul his marriage to her mother so he can marry some woman younger than Jane. And now it's Casey.
The one guy she liked, the one guy she trusted, just kicked her to the curb. "This Is How The Heart Breaks" Yeah, they're not kidding.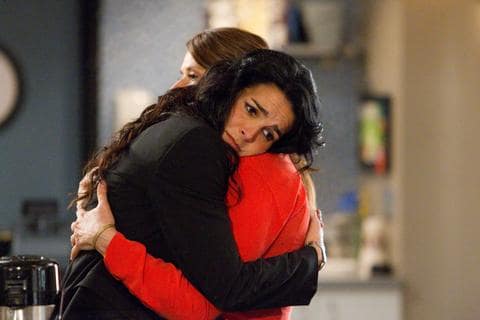 Casey obviously has his reasons. I knew it the second he said he sprained his ankle. But that cold shoulder he gave Jane was downright frigid. Even though she didn't say it, I could hear the question in her voice. Why aren't I worth an explanation?
I've really liked Casey up to this point so I'm hoping Jane finds out the truth sooner rather than later and I hope Casey sticks around for a while.
As much as Angela and Jane rub one another the wrong way, I was glad Angela was there for her - but what I really loved was how Angela held the pastries hostage to get the full story out of Maura. 
The case of the week made me cringe with its use of a tactical tomahawk as a murder weapon. I'd never heard of such a thing but it sounds like it should only be found in horror movies.
I couldn't help but laugh over the introduction of Maura's new love interest. Especially when he's now being referred to as the cute boy with the erection. Now there's a story to tell the grandkids about how you met.
Being that he ended up naked in Maura's kitchen just a few days later, I'm guessing he wouldn't have much of a problem with the moniker. And as Jane was nice enough to point out in this Rizzoli & Isles quote…
Kind of hot, for a dead guy. | permalink
Thankfully Maura was able to bring him back to life. Now she gets to take advantage of her handiwork. 
I'm thrilled that the feuding is over and these best friends are back together. Given all that's Jane's going through, she'll need her best friend now more than ever.
C. Orlando is a TV Fanatic Staff Writer. Follow her on Twitter.