The Closer Exclusive: Corey Reynolds on Wrapping Up, Moving On

Carissa Pavlica at .
Who is The Closer's mole? What lies ahead on this TNT drama's series finale? Why isn't Corey Reynolds headed to Major Crimes and what does his future hold outside of this franchise?
I recently got off the phone with the actor and picked his brain for these answers and many more...
-------------------------------------------
What's going on with Gabriel?
Gabriel is making some changes, and they were revealed on Monday. Have you seen "Armed Response" yet? We got a big clue as to what that life change was during "Drug Fiend."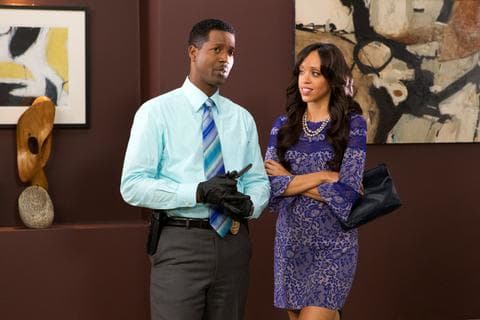 Was the introduction of Ann a reason for why we won't be seeing Gabriel make the move to Major Crimes or what that a personal decision?
That's more of a decision on my behalf. The way the show has been structured for seven years was going to be structured dramatically different, you know, as not having Kyra there. As an actor, your life is somewhat transient. Especially as a theater actor where I started, it's rare when you have an opportunity to work seven years with a character, especially with a character that still changes and evolves. This was my first experience with that, with this show, as I had never done it before.
This was the first pilot I ever booked. I tested for six pilots the year I booked The Closer. I learned a lot over that seven years, about television, about the craft, about this industry versus the live stage industry where I came from and one of the things I learned is that, after seven years in one character's shoes, that maybe it was time to do something else. 
My goal as an actor has always been to play as many characters as I can, and the show was limiting with what I was able to do with the character. So it was time, when I knew the dynamic was going to be shifting, I felt like our dynamic between the characters was such that it would really hard for Gabriel to be there without her.
As one of the top fan contenders as the mole, how does that make you feel having played Gabriel for seven years?
There's the artistic side of it and there's the realistic side of it. I'll start with the realistic. I mean, once it became more public knowledge which actors weren't going to be moving on and staying with Major Crimes, I think a lot of people assumed that because myself, JK and Kyra weren't returning, and it wasn't going to be Krya, Brenda wasn't going to be her own mole, it really came down to what people thought was myself and JK. I don't know. We'll have to wait and see.
I'm happy with the way the series is ending for me and my character. I think James did a wonderful job wrapping everything up and I think, hopefully, the audience will be happy as well. I think they're going to enjoy Gabriel's finale. 
Your character has had a lot of changes over the course of the series, for sure.
Yeah, I think he's had one of the most dynamic changes. You know, in the beginning Gabriel was very straight laced, by the book and that might have been the most important aspect of investigating for him. I think what he learned was that there is a tremendous gray area, and depending upon where you want to live in that gray area, there are other methods that you can employ for the same result, and that result is catching the bad guy.
I think he learned a lot of things from Brenda that he probably employed himself and started using himself and sometimes by learning from people you learn where the lines are where you won't cross.  But it's been a great evolution and having the opportunity to work so closely with someone of Kyra's caliber is the best thing that could have happened to me at the right moment in my career. It was perfect.
You sure couldn't have picked a better first series to star on.
No, no and it's kind of fun for me because a couple of my buddies call me Midas. My first Broadway show was Hairspray and I earned a Tony nomination for that role, and my first feature was with Steven Spielberg and Tom Hanks in Terminal, which was a big movie and then my first series was a seven year run on The Closer.
Right now, though, I've started moving more into the realm of writing. I'm pitching shows. I'll pitch at NBC for a show I created next week. I still love acting and I'll never give it up. It's who I am, it's a part of who I am, but there's also a part of me who is a writer, and I'm looking to explore that a little more. 
What genre of shows are you interested in writing?
My lit rep tells me I'm a genre jumper. The show I pitched last week is a one hour drama with a sci-fi edge and the one that's going to NBC is a half hour comedy. I do a little bit of everything. Jack of all trades!
Back to The Closer. What are you hoping to take away from your experience on the show and what do you expect the fans to remember about David Gabriel?
From a character perspective, David grew immensely not just as a cop and an investigator, but as a man and as a human being.  During the seven years, he was made better by the people who surrounded him. And in that sense of art imitating life, I kind of feel the same way.
I was made a better actor, a better student of the industry, a better coworker, a better professional and better by the experience and the people around me and I take that onward just like David does. To me that's the best ending you can have. It's not going to please everyone, but for those who have been following the series, and for me personally, it's a beautiful ending. 
Where are you with social media?
There's a lot people don't know about me. I recently got onto Twitter, so I'm exposing myself a bit more. I'm kind of reclusive. You can follow me @coreyreynoldsla.
It's a unique tool. You get to connect directly with people you wouldn't ordinarily have the opportunity to connect with.  I was initially reluctant given media coverage, but now I'm like a kid with a new toy.
I can't imagine growing up in an age when you can tweet someone you're a fan of and you can receive a response saying Hi, I know you're there.
I know I'm late to the game, for everyone out there who says, 'well, dude I've been Tweeting for years and I have a million followers.' That's great, but I'm really enjoying it and I'm just glad to be a part of it.
The Closer airs a new episode, "Last Rites," Monday at 9/8c on TNT.
Carissa Pavlica is the managing editor and a staff writer and critic for TV Fanatic. She's a member of the Critic's Choice Association, enjoys mentoring writers, cats, and passionately discussing the nuances of television and film. Follow her on Twitter and email her here at TV Fanatic.