True Blood Interview: Todd Lowe on the Supernatural, Scrambling Eggs and Kissing Carrie Preston
Matt Richenthal at . Comments
Todd Lowe has been a True Blood star since day once, but the veteran/short-order cook is finally stepping into the spotlight on Season 5.
Last Sunday, fans got a glimpse of exactly what's been haunting Terry Bellefleur all these years and, as teased in the following exclusive interview, it's clear this storyline has a long way to go.
Read on to see what the actor has to say about this arc, his most prominent co-star and who would win in a fight between the Bellefleur boys...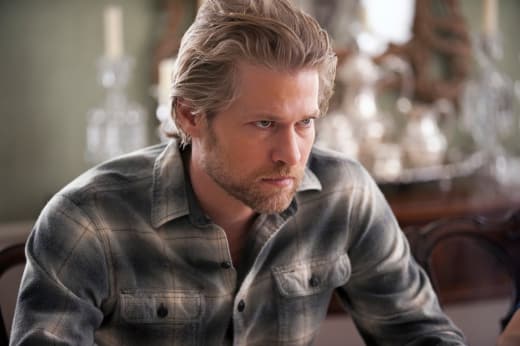 Talk about the evolution of Terry. Was he originally intended to play this prominent of a role?
Well, when I first got cast, I googled "Terry Bellefleur" and saw that he was around in book nine. They've kept him on the periphery, and now they've giving me some fun stuff to play.
Can you give us any overall teases about where this storyline with Patrick is going?
I don't think I'm surprising anyone or spoiling anything by saying that there will be a supernatural payoff. It is True Blood, after all.
We adore Carrie Preston in The Good Wife and, of course, True Blood. What is she like as a scene partner?
Man, the fact that I get to kiss and fight with Carrie is the best gift I've ever received as an actor. She's a fantastic actress, a good friend, and makes me look like a pro.
Which Bellefleur wins in a fight: Terry or Andy? 
Depends, if there's weapons involved, Terry wins. If it's a fist fight, Andy's got some size on me. Chris has gotten himself into good shape, so he probably wins.
What is Terry's favorite dish to cook?
Todd likes biscuits and gravy, but Terry sometimes burns the gravy. So, I'd say scrambled eggs. It's hard to mess that up. It's also therapeutic to use a whisk.
What sort of research, if any, did you do into the world of PTSD and/or veterans in general?
That's a difficult question to answer, because I try to stay sensitive to an affliction that I've thankfully never experienced. I can say I based my character on some unfortunate guys I've met in my life- Vietnam vets who fought a war which wasn't so welcome back home.
Matt Richenthal is the Editor in Chief of TV Fanatic. Follow him on Twitter and on Google+.