We've waited weeks to find out why Owen disappeared and he finally made his return on "Ashes to Ashes, as love and loss were at the forefront of everyone's minds.
When it was all said and done and we got our answers, I realized that I think this is the first time we've ever seen Jane truly be in love with someone other than Grayson. For four seasons of Drop Dead Diva Grayson was number one in Jane's mind, but it seems she has finally really allowed herself to move on. 
Life threatening situations can do that to a gal!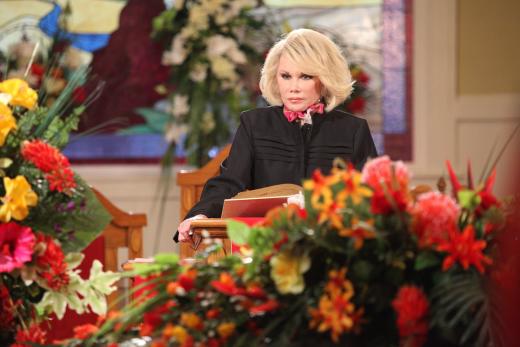 For anyone who didn't watch the episode, don't be fooled by the photo above. The funeral was merely in Jane's dream, as was Joan Rivers. Stacy took the wheel in educating us on what a Jane's nightmare could possibly mean:
A funeral represents closure and since you never got closure from Owen in real life, your subconscious is working it out for you. | permalink
Of course in the TV world, right after Jane tries to get closure, the guy who broke her heart reappeared. There has been a lot of speculation as to where Owen might've been and whether or not he really left Jane as she so assumed. Much to the relief of viewers who have grown to love Owen, it turns out he in fact did not cheat on our heroine.
But what happened to him was pretty scary. Owen had a medical condition that he chose not to share, went to get it checked out, had a heart attack and went into a medically-induced coma. Nobody knew where he was. Owen mentioned to Jane that nobody knew where he was, not even his family. That seemed odd to me but I suppose not everyone would choose to share something like that. Then again, I don't think Jane even reached out to Owen's sister or anything. It kind of makes me feel like it's too soon for them to be getting married. If the person you're about to marry has a serious medical condition, you should obviously be in the know! People need support! 
I'm glad Jane saw through Owen's facade of dumping her because he really just needed the support and to know someone was there for him. Life is short and scary things do happen, that's why you should spend as much time as you can with your loved ones. In that moment in Owen's office when Jane re-proposed to him, I felt like she had finally and completely given herself over to somebody else. Do you guys agree or do you think Jane and Grayson will end up with feelings for each other again?
One thing that we definitely learned about Jane and Grayson tonight was the difference in their experiences with death of a loved one. This gets tricky since Jane is Deb reincarnated, but she never had to experience it from Grayson's side and go to bereavement groups. I think that sensitivity is what helped Grayson fight harder for his case. If you're fighting for a woman who is physically eating her dead fiancee's ashes, you've gotten understand them on a deeper level. Jane - who is normally very compassionate - was about to write her off and send her to a shrink.
What a crazy case that was, I'm glad they were able to solve it in the nick of time. What did everyone think of this week's Drop Dead Diva? Do you want to see more of Lady Bodacious? Are you softening to Luke after seeing how he helped Terri? Were you surprised by Owen? Hit the comments!