Terrific. Outstanding. Top notch.
The superlatives continue to come in for this summer's run of Suits. So with a multi-month hiatus ahead of us until this USA Network returns with new Season 2 episodes, let's take a moment to appreciate the last 10 episodes, TV Fanatic Report Card Style!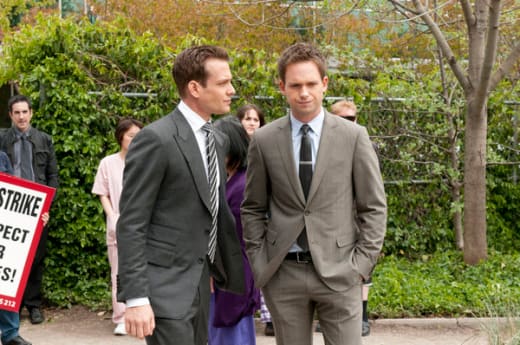 Best Episode(s): "Break Point" and "Sucker Punch" both had me on the edge of my seat from the first minute. In the midst of an effort to save Harvey, everything was coming apart at the seams, and the collateral damage was mounting. These episodes connected the fall and the fallout of the CM Motors memo debacle and propelled the show to its epic finale.
Louis Litt Highlight: By far his moment with the Dictaphone after hours with Harvey in "Meet the New Boss." You're right, Louis, in that moment you were "the man."
Breakout character: Donna Paulsen stole our hearts in Season 1, but she became an especially key player in Season 2. Her dismissal from the firm on the grounds of destroying a document the firm was accused of hiding had Twitter ablaze with #SaveDonna hashtags. From her iconic style to her unrivaled wit, Donna gave us all a reason to tune in every Thursday.
Predictions: I think Tess will be sticking around, creating a love triangle between herself, Mike and Rachel, which is already in full swing. Louis will either attempt to reconcile with the team he froze-out or proceed to make things worse by rebelling against them. Hardman will likely continue to be a factor moving forward as he threatened that his dismissal wasn't the last page of the story - and I believe him!
Grade: A+
Your turn, TV Fanatics. What grade would YOU give Season 2 so far?
C. Charles is a TV Fanatic Staff Writer. Follow her on Twitter.