Partners centers around two lifelong best friends, one of whom is straight and the other gay.
A decade ago, this progressive concept may have been enough to base a sitcom around. But times have changed.
Gay characters abound on television, society itself has come along way and I, at least, need a lot more for my entertainment value than the very tired concept of a self-centered, over-the-top gay man bouncing his zaniness of a straight target.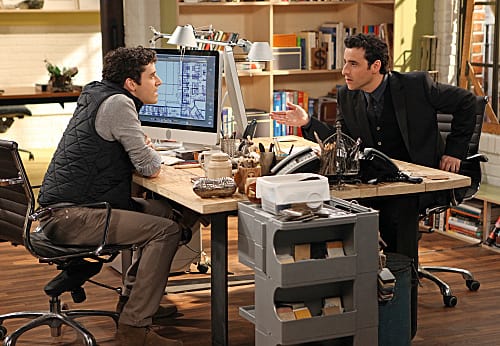 That's really all the premiere delivered, playing up the differences between David Krumholtz's Joe and Michael Urie's Louis in uninventive, one-dimensional ways.
Nothing felt fresh about Partners. Of course Wyatt is a gay nurse. Of course Louis wishes he could be a Jewish doctor. Of course there were numerous jokes about sex and penises, with many ridiculously forced (heart-on? Really?!?).
The sitcom is mostly harmless and doesn't cater to the lowest, most obvious denominator like some of its CBS brethren (2 Broke Girls, Two and a Half Men). But it's not imaginative or unique, either. Not only do I feel like I've seen Joe and Louis' relationship before, I feel like I've seen it between Will and Jack on creators David Kohan and Max Mutchnick' previous series, Will & Grace.
Partners said it best itself early on, when Joe and Louis' secretary mocked the latter with what could easily be the show's tagline: Gay, gay, gay. Joke, joke, joke. That's really all you need to know.
What did everyone else think? Grade the premiere now:
Matt Richenthal is the Editor in Chief of TV Fanatic. Follow him on Twitter and on Google+.