Revenge Photo Preview: A Heartbroken Jack?
Steve Marsi at .
Is Revenge about to deal Jack Porter a devastating blow?
In the fourth episode of the ABC melodrama's second season, airing October 21, we will see Nick Wechsler's character in the hospital, noticeably distraught, along with Emily, Declan and Charlotte. What brings him there?
One telling sign: Amanda is not present in these photos.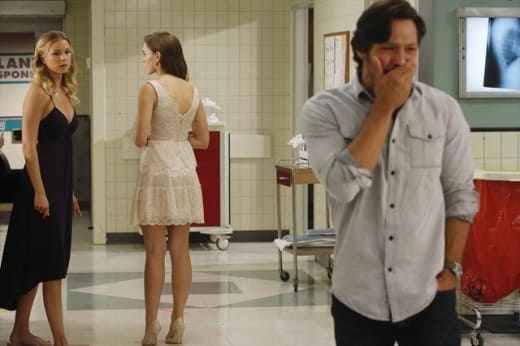 ABC's episode synopsis hints that "playing with the Graysons is definitely playing with fire, and Amanda learns that the hard way." The photos released by the network suggest some potentially crushing consequences.
What do you think is behind Jack's heartbroken state? Pregnancy complications? Something worse? 
In our Revenge Round Table this week, we discussed Emily's lie to Amanda regarding the paternity of her unborn child and the ramifications on that. It's possible, based on these pics, that it will soon be a moot point.
Also, Jennifer Jason Leigh makes another appearance in this installment, which could always be a dream or memory on this flashback-loving drama, but perhaps she's rushing to be with her "daughter" Amanda?
Finally, Emily looks fantastic in that dress, and with this particular hairstyle.
Scroll through the images from "Intuition" below and share your comments:
Steve Marsi is the Managing Editor of TV Fanatic. Follow him on Google+ or email him here.