Any Revenge fan likely sensed that Victoria welcoming Amanda into the fold, followed by Emily attempting to manipulate this unexpected connection to her advantage, would spell big trouble - even before tonight's episode began with a bloodstain, a fire and a devil in a red dress at Grayson Manor before flashing back 24 hours.
Call it "Intuition."
Yet in typical fashion, the way the events unraveled was surprisingly complex, and the fallout unexpected. The extent of the characters' ulterior motives and machinations never cease to make your head spin.
Cases in point? A pair of absolute mega-shockers involving Amanda and Kara Clarke, with Emily Thorne caught in the crossfire and numerous other side plots developing before our eyes.
Everybody stop hyperventilating yet?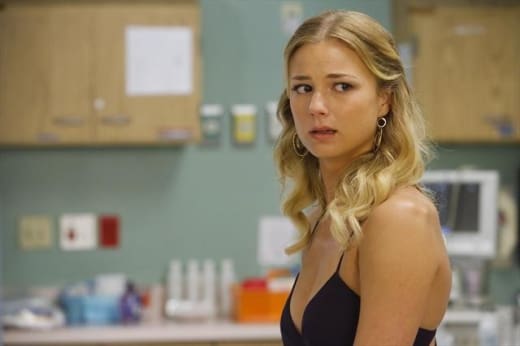 After pressing the sinister Victoria for answers and pushing the envelope farther than ever before, Emily's search for the truth ended with Amanda FALLING OFF THE BALCONY AND ENDING UP IN A COMA.
That was your Revenge Audible Gasp moment of the night, and probably the season so far, but the convergence of Amanda's fall with the arrival of Emily's mysterious mom raised the stakes even higher.
Having outwitted and overpowered Aiden, Kara Clarke was on the hunt for her husband - who happened to be THE WHITE-HAIRED MAN - when news of the accident at Grayson Manor came on the radio.
As her "daughter" lay unresponsive, we saw Kara by her bedside in the episode's closing moments, with her true offspring looking on through the glass. The stunned look on Emily's face said it all.
Not only is Kara alive, and right here in the flesh, but Victoria's chilling portrayal of her was confirmed via flashback. Two decades ago, a clearly deranged Kara ALMOST DROWNED YOUNG AMANDA.
That's a lot to take in, and would probably prompt a lesser Revenger to quit the biz or at least take a sabbatical as she processed it all. Emily was overdue for a good cry, and having watched these unforeseen consequences of her agenda unfold in such devastating and stunning fashion, she finally broke down.
We know she isn't backing down, though, and will likely lean on Aiden more than ever.
How much did/does he know about Kara? How much does Kara know about the Initiative, and how connected are the Graysons to its shady dealings (as Conrad's meeting hinted, at least to a degree)?
With the introduction of the old visitor log, is Victoria on the verge of figuring out that Emily is the real Amanda, or at least that the two are linked? And what really happened between Vicki and Kara?
Speculation will run rampant I'm sure, but one thing's for certain: Kara is a force to be reckoned with. Jennifer Jason Leigh brings a terrific wild-eyed Single White Female unpredictability to the role.
Madeleine Stowe might have to step up her crazy game in the coming weeks, as this has only begun to shake out. Enemies, allies and wild cards in constant flux and harder than ever to identify.
The battle lines are not clearly drawn, and the players are still figuring out the game. Let's take a look at where some of the other Hamptons regulars and interlopers stand after this evening's events ...
Nolan was forced to dig deep, and not just into his financial records for the IRS. The pink-suited tech wunderkind learned that his father, who has not been a presence in his life for years, had died.
Gabriel Mann is terrific and showed a new dimension of his beloved character, who we know relatively little about, although it's hard not to miss him being by Emily's side as he was throughout the night.
Aiden and Padma (and to a point, life) have driven a wedge between this dynamic duo, at least for the time being. Both new characters bring something to the table, but it's just not the same.
Will Nolan uncover more than he bargained for in that storage locker, or was that merely a diversion? Whatever the case, hopefully he and Emily reconnect soon. Absence makes the heart grow fonder?
Also potentially significant: Padma stumbling across David Clarke's investor check.
Daniel is determined not to be pushed around. Someone took his former fiancee's advice and started mixing it up with the best of them. What is his endgame? Who is he lying to? Does he even know?
All TBD, but it's fun to see him come out of his shell a bit, and to see some scenes with Ashley that actually make one care a little about their relationship. Hot? Not? Who's playing who? Discuss!
Jack is totally getting played, that's for sure. The guy Dec robbed is making a play for the Stowaway, and as usual he's too naive to realize it. Not that we blame him too much in this case, considering.
He's a father now! Congratulations, Jack! And sorry, man. Only an episode this wild could make that feel like an afterthought, but it pretty much did. What the heck is the poor guy going to do now?
What a lot of us would probably like to see is for him to start putting the pieces together. How long can he be blind to everything going on around him? An enlightened Jack would be a lot more interesting.
All in all, a solid episode tonight. Part soap opera, part melodrama, part suspense thriller, part whodunit and even part comedy, Revenge has it all. It just keeps getting more addicting here in Season 2.
A few closing thoughts and stray observations before turning it over to you:
Emily VanCamp always has great style, but her hair and dress were amazing tonight. Also, the shorts at the beginning were an unexpected, fun surprise. Thank you, Revenge costume department!
When's Amanda going to wake up? Should we start a TV Fanatic pool?
"Twins?" "Just the one." Gotta give FauxManda props for that classic.
Victoria's face as she told Amanda to "OPEN IT" ... Un. Real.
The Beaver Dam? Best. Strip. Club. Name. Ever.
Aiden and Ashley ... anything there (besides great accents)?
That poor maid.
Here's ABC's first promo for next week's episode, "Forgiveness" ...
What did you think of this week's Revenge? Comment below!
Steve Marsi is the Managing Editor of TV Fanatic. Follow him on Google+ or email him here.