Introduced briefly, but not figuring prominently into the Revenge Season 2 premiere was Aiden, Takeda's other student played by Barry Sloane. Soon enough, we can expect this mysterious character to take on a bigger role.
Executive producer Mike Kelley tells TV Line that an upcoming episode of the ABC drama will fill in the blanks, showing viewers how he and Emily know each other and what specifically bonds them. And that's not all.
With Daniel and Ems "on the outs" and Jack unavailable, "There's an opening" for him, "But she's not the most receptive. [Aiden] has a lot of ground to make up, because he did something that's very hard for her to forgive."
Hmm. Emily's right hand man is also not a fan.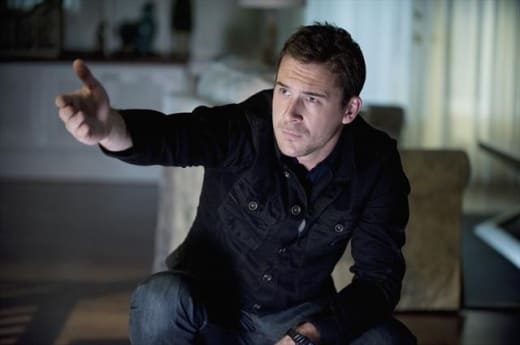 As teased by Gabriel Mann in his interview with TV Fanatic last week, Kelley says Aiden drives a wedge between our favorite dynamic duo: "This character has come in and stolen his girl, so [Nolan] doesn't love him."
It's not clear exactly when his backstory will be revealed, but he appears in a great deal of photos from "Confidence", the third episode of the season. Follow the link to view those, then tell us in the comments below:
Are you excited to learn more about Aiden? Will he figure into Emily's life romantically? Is he the body in the ocean?
Share your predictions as well as your hopes for how things play out with this new Revenge figure.
Steve Marsi is the Managing Editor of TV Fanatic. Follow him on Google+ or email him here.