Grey's Anatomy Scoop: The Interns Speak Out!
Steve Marsi at .
The new crop of interns are already leaving their mark on Grey's Anatomy Season 9.
In "Love Turns You Upside Down" (December 6), we'll be treated to an episode told largely from their perspective. A week later, in "Run, Baby, Run," three of them (Shane, Jo and Stephanie) attend Bailey's wedding.
These fresh faces are making their presence felt. The new fab five sat down with TV Guide and previewed these events, as well as what's to come for their respective characters. Here's what we can expect from ...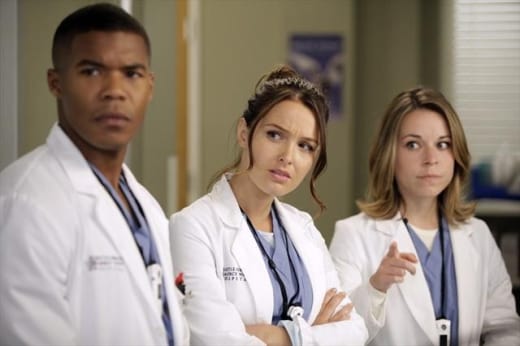 Shane (Gaius Charles, left) is assigned to April and is lectured on bedside manner after he extracts a growth from a woman's private parts. "It's gross and humiliating, but some good comes out of it," Charles says.
Adds the former Friday Night Lights cast member and NCIS guest star from last May, "Shane and April form a friendship. We see the interns pairing up with the doctors [and] romantic stuff happens."
Heather (Tina Majorino, right), Alex's one-night stand, is put on Meredith's service and gets caught in the middle of a nuclear fight between Meredith and Derek, which sparks memories of her broken home.
"Meredith asks Heather to do some research on a procedure to help Derek's hand," says the 27-year-old Bones and Big Love vet. "It blows up, and Derek ends up screaming at Meredith and Heather."
Jo (Camilla Luddington, center) "cannot stand him," referring to you-know-who. "Alex gets under her skin as no one else has done and calls her 'Princess.'" Still, you can't deny there's a connection between them.
Stephanie (Jerrika Hinton) is dubbed "Grumpy" by Cristina, then at Bailey's wedding can barely form a sentence in the presence of her secret crush ... whoever that is. Your guess is as good as ours!
Expect them to share an intimate encounter. Says Hinton, "It's definitely charged."
Leah (Tessa Ferrer) is pitted against Steph when both are assigned to Cristina and must monitor a set of babies. "It gets out of control and puts our jobs in jeopardy," Ferrer tells TV Guide.
We'll also see the extent of Leah's heartbreak from getting screwed over by Alex (yes, the man gets around that hospital like it's his job these days). "She's ­really pining after him," she admits.
Who's your favorite new intern so far? Who would you like to see more - and less - of in Season 9? Do you think they're being integrated well with the regular cast? Sound off in the comments below!
Steve Marsi is the Managing Editor of TV Fanatic. Follow him on Google+ or email him here.