Only 10 contestants remain on The X Factor, and while at least one of tonight's eliminations may create some buzz/debate, all viewers can agree on one thing:
Khloe Kardashian is an abysmal host. I say this without any biased based on her reality show or the exploits of her family. But solely on the fact that she has no personality on stage and can't seem to read her lines.
Let's move on to the eliminations, shall we?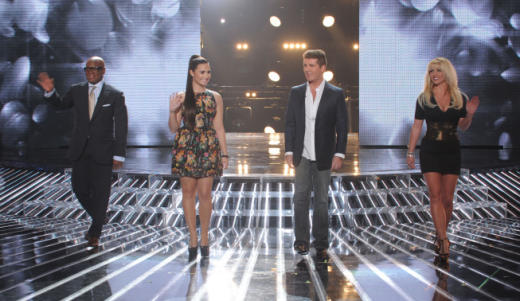 Before Taylor Swift took to the stage for a rendition of "State of Grace," Lyric 145 quickly learned the bad news, with one member responding to it in odd fashion:
"We had a hip-hop song that got snatched away from us at the very last minute."
Was she blaming mentor Simon Cowell? Producers for forcing a change on Wednesday night?
Moving on, the final two acts to learn their fate were a pair of young adults: Jennel Garcia and Paige Thomas. They each sang for their competitive lives, with Garcia hoping to give fans a "Reason" to keep her around and Thomas trying to prove the stage was her "Paradise."
After the typically staged and irritating bickering among judges, Garcia was voted out, fighting back tears as she told the audience: "I'm just happy that I made it this far."
But should she have made it farther? Vote now: Did the right contestant go home?
Matt Richenthal is the Editor in Chief of TV Fanatic. Follow him on Twitter and on Google+.