Ready to run back 2012 once again?
We've already asked readers to chime in on the Best Couple of the year, along with the Best Villain and Best Feud.
Now, it's time for the TV Fanatic staff to answer the following question: What was the best new show that debuted in the last 12 months?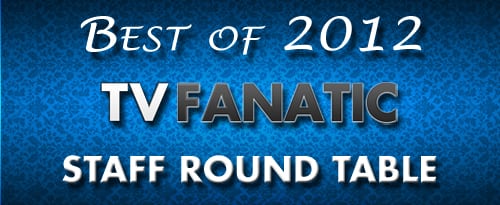 Miranda Wicker: There's not even a little bit of doubt in my mind about this one: Scandal.
Dan Forcella: Ben and Kate is not only the best new show of the year, it's been one of the best overall comedies of 2012.
Kate Brooks: Perception!!!!!!
Steve Marsi: Nashville. Despite so many divergent storylines and a seeming lack of direction at times, the casting, teleplay and music are top notch and all eight episodes have been strong so far.
Gabrielle Moss: Despite an extremely mockable title, Don't Trust the B in Apartment 23 has been my favorite new show, hands-down. Krysten Ritter has so much charisma, I would watch a half-hour of her sorting laundry, and while  I know that James Van Der Beek didn't invent the whole "playing an evil version of yourself on TV" thing, I think he's doing the best version of it out there right now.
Matt Richenthal: Veep. As smart and funny as any show I watched this year. (NOTE: The Following will be every single reader's answer for 2013. Trust me.)
Carissa Pavlica: Major Crimes. I didn't have the highest hopes that it could adequately capture the magic of The Closer. Instead, it set its own bar and raised it with each new episode, giving previously known characters completely new life through amazing material.
Lisa Palmer: Girls is not only my favorite of 2012, but probably one of my favorites of the last decade. It's honest, refreshing and hilarious. And I swear it steals stories from my life.
Christine Orlando: Last Resort. It's intriguing and action packed, although at times it's tried to do too much in each episode. I was really disappointed that ABC didn't give it a full season pickup but I'm hanging on the last few episodes to see how they wrap up this story.
Carla Day: Last Resort. It's a shame ABC didn't give it more of a chance to catch on. Since it's not continuing, I'll say Arrow. It's been the biggest surprise. The pilot was my favorite for the fall and it's maintained a good pace, action, and mystery.
Nick McHatton: Despite being cancelled, Awake was this year's best new show. It was unmatched in storytelling and creativity and I still go back and watch it on my TiVo when I can.
Mary Powers: Revolution. The concept was different/unique. It was about an apocalypse, but featured a different spin.
Jim Garner: I'm with Miranda, Scandal has to be one of the best written shows on the air today. Someone needs to make an "I Leigh Raines: Scandal and Girls are both my favorites for different reasons. Girls for me is relatable and hilarious and I think Lena Dunham is brilliant. Scandal takes my breath away at least once an episode and is the best thing Shonda Rhimes has ever done. Best show on network TV.
YOUR turn, TV Fanatics: What was the best new show of 2012?