Private Practice Round Table: "Good Fries Are Hard to Find"

TV Fanatic Staff at .
Hold off on that Private Practice wedding talk for just a few moments, fans.
Before looking too far ahead to the January 22 series finale, let's take a look back at Tuesday's Amelia-based "Good Fries Are Hard to Find." In this edition of the TV Fanatic Round Table, staff writers Christina Tran and Carissa Pavlica are joined by a trio of readers to breakdown the latest stories and developments.
Read on and chime in now!
-------------------------------------------
What was your favorite quote or scene from the episode?
Christina: James saying "if it felt like love, then it was. Don't let the perspective you have now diminish the feelings you had then. That wouldn't be fair." I think that everyone needs to hear this at least once.
Carissa: When Amelia finally told James why she didn't drink and he didn't turn away from her. It had to be really difficult for her to do it, and she expected the worst. He's like superman, so of course he hung on.
Jarrod: As Christina said in her review, I'd have to go with the "raw and honest" conversation between James and Amelia about their past. Though his was wasn't as deep, we really got to the core of what Amelia went through last year and how she felt in regards to Ryan and everything towards him.
Beina: I loved the scene where James and Amelia were under the covers and Amelia began to talk about herself and her past; there was this close up of them that made the scene so intimate and sweet.
Caitlyn: I have to agree with the others: the conversation under the sheets was a really great moment for James and Amelia. And I also loved that little bit with her eating ice cream on the couch as her way of working out.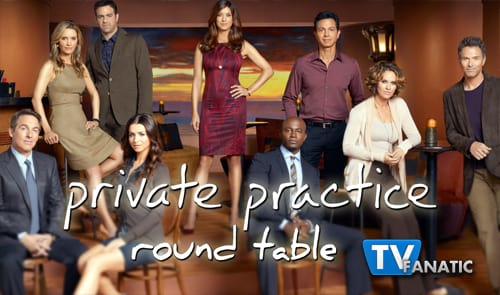 How did Amelia's story compare to the rest?
Christina: It was definitely another strong one for the books. For the most part, it felt lighter and was fun to watch. Amelia really shined as usual.
Carissa: It was good, but I'm tiring of the format, to be honest. The show is ending and we're not going to see a normal episode? That saddens me.
Jarrod: I don't want to come across as bias seeing as Amelia is my favorite character, but I'm definitely placing it in my top three between Addison's and Jake's stories.
Beina: In this episode, there were more scenes of intimacy than the others.
Caitlyn: I thought that it was great that Amelia found a good guy to be with, especially after all that she's been through. It's nice to know she's catching a break and seems to be getting her happy ending. However, this didn't really strike me as an amazing episode in terms of its structure. I felt like there wasn't much of a climax and it was pretty predictable.
What did you think of Jamelia's overall relationship?
Christina: It's kind of spectacular. We've seen Amelia hit rock bottom, and now we get to see her a bit more grown up and getting what she deserves - happiness!
Carissa: I thought it was based too much on sex. They would talk a bit and end up back in bed. It seemed to suggest that the only way to keep a relationship going was to stay happy in bed, and I wasn't too keen on that as an overall relationship model.
Jarrod: I'm not sure what it is, but I just don't have a strong liking to James. Nevertheless, Amelia and he do have chemistry and as long as she's happy, I am happy for her. Let these two continue on!
Beina: They're cute together. He's a nice guy and I like the way he looks at her, like If there were only her!
Caitlyn: It's very clear that the two have chemistry with one another and although most of the episode was spent seeing them in bed together, I felt like they had these little moments that showed that they're about a lot more than just sex. I think James is a great guy, but I'd probably be more convinced that these two were meant to be if we had seen their relationship progress over the course of the season rather through just an episode.
As James asked, would you rather have toast with salsa or ice cream?
Christina: Ice cream FTW. I'll treat it as if it were biscotti with ice cream... or maybe breadcrumbs like it's fried ice cream! That stuff is awesome.
Carissa: Neither, please. But let me say I KNEW this question would be asked.
Jarrod: I'm going with the ice cream. I could always throw out the toast afterwards.
Beina: Just the idea of toast crumbs in the ice cream makes me shiver Haha... I choose the salsa, but it must be good!
Caitlyn: Since I'm not such a fan of salsa, definitely going with ice cream!
Two episodes remain. What is the one thing you'd like to see happen the most?
Christina: More than anything, I want to meet all of the Cooplets.
Carissa: I really have no idea at this point. No expectations. This format has thrown me a bit, and I feel off kilter. It doesn't feel as though it's leading to an end, so maybe we'll just be left with a Sopranos type ending where each character gets off the elevator as always, and we know their clocks keep ticking.
Jarrod: All of these characters have seemed to be getting their happy ending, as well as their overall happiness. Though next week seems complicated, I'm hoping for a happy outcome and that in the end, everyone's lives are stable and drama-free. I particularly hope to see more Violet and Lucas though. I'd like to see how she's dealt with Pete's death, as a wife and mother as the show has gone on. 
Beina: A nice chat like old times between Addison and Naomi while eating chocolate.
Caitlyn: I want to see both Cooper and Charlotte happy with Cooplets. No doubt Cooper will love having a house full of kids and even if it's been made clear that Charlotte loves them, I want to see them having great family dynamics.