Being single on Valentine's Day isn't a crime. But some of our favorite unattached TV characters could certainly use a special visit from Cupid today.
Check out our list of eligible bachelors and bachelorettes below and decide who should remain happily single... and who deserves to be lucky in love.
----------------------------------------
April Kepner (Grey's Anatomy) Since her former flame Jackson seems to be moving on, isn't it time for April to take a chance on love again? Perhaps someone she doesn't work with every day. How about that cute paramedic?

Javier Esposito (Castle) Why is the 12th precinct's hottest Latin lover been going solo for so long?  Well, the M word got mentioned much too soon, Javi's former flame Lanie Parish got spooked and ran but is EspLaine hot and heavy once again? Should Espo move on and find new love? You make the call.
The Entire Cast of NCIS Think about it. Gibbs, Tony, Ziva, Tim, Abby, Ducky, and with the murder of his wife now even Director Vance is unattached. If you want some romance in your life, don't take a job at NCIS.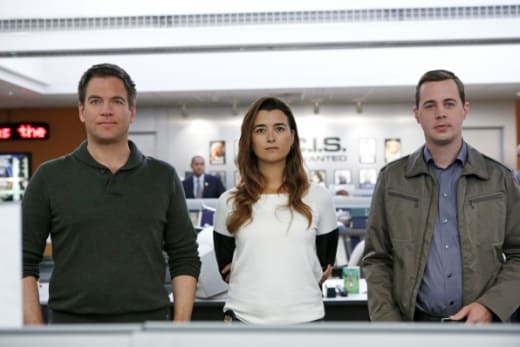 Emma Swan (Once Upon a Time) She's had an abysmal love life. Neal, her first love took off leaving her to face a prison rap. The last guy she kissed had his heart ripped out, literally.  Is it even possible for Emma to find her happily ever after?
Patrick Jane (The Mentalist) Besides a dalliance with one of Red John's minions, Patrick Jane has been all but a monk since the serial killer murdered his wife and child.  It's been a decade. That's a long time to be alone.  Is there any chance Jane will find love again…perhaps with his equally lonely partner, Teresa Lisbon?
Sarah Braverman (Parenthood) When Sarah finally made a decision between Mark and Hank (Go Team Hank!) he had already decided he needed to move to Minnesota to be with his daughter. Are you hoping that Sarah headed north and is finding love amongst the snow drifts this Valentine's Day?
Ted Mosby (How I Met Your Mother) This guy has been looking for the future mother of his children for eight seasons! With one more season left, will that mean that Ted will find his Valentine soon?
Megan Hunt (Body of Proof) She's beautiful. She's smart and more than a little snarky but Megan Hunt is a party of one as Body of Proof returns this month. Do you want to see the good doctor fix her own love life this season?
Danny Williams (Hawaii Five-O) Danny's a good dad and great cop. You'd think he could find love on a romantic Hawaiian island.
Naomi Clarke (90210) When your husband walks out in the middle of the night, it doesn't bode well for a happy Valentine's. Perhaps Cupid could show a little mercy and pay her a visit on the 14th.
Neal Caffrey (White Collar) With all the angst over trying to prove who framed his long lost father, could Neal use a little love in his life or is that one complication too many for the gorgeous con man?
Is there anyone we left out? Let us know and then choose which character is most deserving of a visit from Cupid this season?
C. Orlando is a TV Fanatic Staff Writer. Follow her on Twitter.