The Walking Dead Season 3 came to an end last week.
But there is a positive to this development: it means it's time to go back to the 60s for AMC's equally entertaining – albeit far less bloody – Mad Men.
I recently spent a day hanging out with the actors that fill the offices of Sterling, Cooper, Draper, Price to see if we could get any scoop out of their tight lips about the new season. Here are 11 things we found out that will get you ready for Sunday's two-hour premiere...
-------------------------------------------
Don Draper's duality: "We open with a man sitting in paradise reading about hell. And I think that's an interesting juxtaposition," said Jon Hamm, who plays Don and does not utter a line for the first eight minutes of the season premiere. "We see it in the key art and as the season progresses you'll see a lot of dualities and two sides of this person."
Season 6 Themes: To get a glimpse into what the new season is all about, creator Matthew Weiner broke down this poster: "There is a lot of meaning in it. It came from a dream…I had this dream and it was not Don, it was me. But a lot of stuff is like that. It could be, end up being expressed through Peggy or any of the characters but it was really about -- we don't wanna repeat ourselves on the show. But the fact is that you do repeat things in life. And coming back to a place where things are not so great and starting to realize that maybe you are the problem."
He also said that one of the characters says in the first episode that 'people will do anything to alleviate their anxiety.' That's what this season is about." 
Joan as Partner: "We definitely are sort of exploring the fact that we have seen her all of a sudden become Partner and sort of what that means," Christina Hendricks previewed. "Are people going to just all of a sudden turn around and, 'Oh, Joan's a partner. Let's treat her like a partner'…or is it a title and just everything same as usual?"
The fact that Joan slept with a client to help the business but also secure her partnership won't be forgotten either, she teased: "It will always be something that she knows she did, but, I think, one of the things I really like about Joan is that she makes a decision, sticks with it, demands not to be judged for it in all sorts of things that she does throughout the show, and I think this is another one of those things."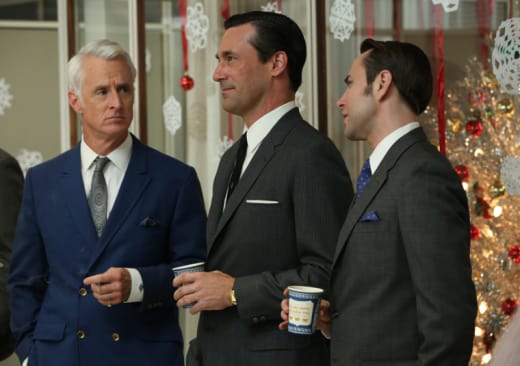 Is Peggy Gone? Elisabeth Moss said Weiner told her that Peggy leaving the firm did not mean it was over for her. She explained that at season five's episode 11, the show's creator "called me and said 'all this stuff's gonna happen and you're gonna leave.' I literally was like, 'that sounds amazing: Am I still on the show?' He was actually a little bit offended and he was like, 'Of course! Yes!'"
Moss feels having a main character separate from the rest of the pack, "that's the beauty of this show, it's not afraid to take that risk, to kind of give the audience a little bit of maybe what they don't want."
Moss also said she was wrong to assume that it might mean less Peggy Mad Men Season 6: "I was actually pleasantly surprised by how much I had to do in this season. I was kind of expecting not to be in it so much, because I thought well, I'm at a different agency. And I'm pleasantly surprised."
Megan In The Spotlight: The acting career of Megan (Jessica Paré) goes to higher heights in the new season, but will Don be okay with that?  "We ended last season with Don walking out of the light and into the shadow," Hamm said. "We saw Don leaving Megan in the spotlight and retreating to the shadow. I think that's significant.
A Don and Joan Coupling? Hendricks admitted she loves that the audience wants something to happen between the two characters and isn't totally ruling it out from ever actually happening: "If it made sense for the characters," she said, "I am sure if that was something that happened, it would be for a very good reason that Matt would inform us of."
Jon Hamm, Director: The actor steps behind the camera again for an upcoming episode this season and he admitted it was a tougher challenge this time around: "I had a lot more to do in my episode this season as an actor," he explained. "It was sort of a degree of difficulty more challenging in that respect. You are completely of two minds on set. It's a very, very difficult mindset to stay in. You're watching one thing as a director and especially if you're in the scene you're watching one thing as an actor."
He credited watching Ben Affleck wear dual hats while shooting the film, The Town, for helping him take on the task.
Can Roger Keep It In His Pants? John Slattery (Roger) is directing the 10th episode of the season but also talked about whether Roger could ever be faithful to a woman.
"Faithful? I don't know, I don't know. I hope not. Because he really does appreciate people, I think. [His ex-wife] Mona, I think they have a great relationship. I think they sound like each other, Mona and Roger. And Mona and Joan sometimes. They sort of have a way of cutting through the bullshit and pointing something out."
Sally Parenting Betty: One of the themes with Betty is how she connects with children better than adults yet has a strained relationship with her own kids. Why? "She is on the same emotional level," explained January Jones, "and I think now Sally is even surpassing her emotional maturity in a way, and has become almost Betty's parent."
And while Betty's second marriage to Henry continues in the new season, can Betty ever be happy? "I don't think that she's ever satisfied with her circumstances. It's just a personality flaw."
Jim Halterman is the West Coast Editor of TV Fanatic and the owner of JimHalterman.com. Follow him on Twitter.