With a second lease on life after its cancellation was reversed, Drop Dead Diva is back tonight for a fifth season and there are changes afoot, both in the cast and where we find our returning characters.
During a recent visit to the show's set in Atlanta, I grabbed some time with the cast to get the scoop on what we'll see this season and how it feels to still be on the air.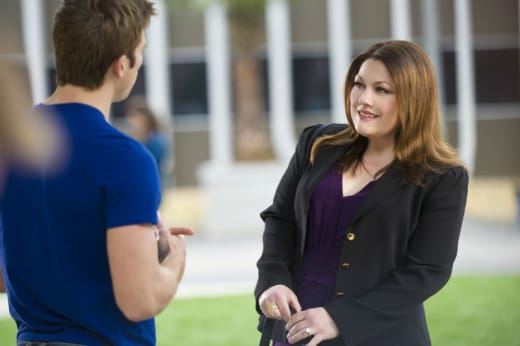 Brooke Elliott: We pick up with Jane in a frazzled state and for good reason. "Jane is incredibly frightened that Owen is dead or missing," Elliott said since Owen had a heart attack after seeing Jane kiss Grayson. But that's not all since a certain soul decided to return at the end of last season. "[Jane] also doesn't know if Old Jane's soul is in Owen's body…if she's not in Owen's body, where is Old Jane? And who's got control of Old Jane?"
Elliott admitted that even though she did participate in pilot season for another gig upon hearing about the cancellation, she never truly believed that the show was done. "It was weird," she explained. "I had this feeling, like, 'I don't think this … why do I think this isn't canceled?'" Thankfully Sony and Lifetime were able to get a budget they could all work with and the show was back!
Jackson Hurst: Despite smooching with Jane in the finale, Grayson is not the man she chose so how does he deal with that?  "Grayson put it all out there for her and she basically shut him down," the actor said. "He's kind of in a vulnerable place so it allows him to open up for somebody else." (Keep an eye on new addition Annie Ilonzeh, who joins the show later in the season as Jane's new assistant).
Since things will be complicated with Jane, watch for Grayson to work more with Kim Kaswell. "Kate and I have worked together a lot this year," he said. "I love working with her. We just [have] good chemistry. I mean, the outtakes are ridiculous because we're just constantly busting on each other and just having fun."
Lex Medlin: As for Owen in the new season? Well, as Medlin puts it, "he's just hurt." And while Medlin himself thinks Owen should forgive Jane, don't expect things to be that easy in the first crop of episodes. That said, Jane and Owen still have to work together, which we'll see in the season premiere. And without spoiling whether 'Old Jane' is in Owen's body or not, Medlin did say with a grin, that he'd be up for the challenge. "As an actor, the idea of playing a woman is incredibly exciting to me."
April Bowlby: Stacy may be moving on from her 'Pakery' business and may flirt with the dreamy new angel, Paul (Justin Deeley) but don't expect a relationship like she had in earlier seasons with Ben Feldman's Fred. In fact, Stacy's main job in the start of the season is helping Jane get through her crisis. "I help her and I guide her but I'm always constantly on the fence as well and just presenting both options to her," said the bubbly Bowlby. Watch for Stacy to embark on a personal project later in the season that could be life-changing for her.
Kate Levering: With Kim Kaswell and Levering both pregnant at the start of the season, where do we find the normally centered and in-control Kim? "I don't think Kim knows what to do with herself pregnant," Levering said. "She also is dealing with the Parker relationship…it leaves her in a situation that she never thought, in a million years, she would be in." (As reported earlier, Josh Stamberg is not returning to the series).
Margaret Cho: The comedienne didn't have much downtime when the show was cancelled. "I booked a whole European tour, Australia and New Zealand tour and then I had to cancel them completely," she said. And despite standup comedy being her first job, she admitted, "it was a great thing to be able to come back." As for Teri in the new season, watch for her to keep the office running, toss off her usual wisecracks and, a few episodes in, help Stacy in a situation involving the opposite sex.
Justin Deeley: The new angel may be sent down to help Jane but, new to the ripped, muscular body he finds himself in, Paul also happens to not wear clothes a lot of the time. "In his previous life," the former underwear model explained, "[Paul] worked a little too hard. He took a lot of things for granted as far as life. And he's come back and he's got this body…he never really worked out and he never did that kind of thing. He's says, 'Look at what I can do. Look how strong I am!'" In fact, for those who find the new angel physically appealing, he'll be completely naked in the season's third episode on July 7th.
Drop Dead Diva airs Sundays at 9 p.m. on Lifetime.
Jim Halterman is the West Coast Editor of TV Fanatic and the owner of JimHalterman.com. Follow him on Twitter.