The only thing better than a TV Fanatic favorite being on the air? When a past season comes out on DVD or Blu-ray to enjoy it all over again. And whether it's for repeat viewing or for the first time, a plethora of new titles came out this month.
Here are the top TV Fanatic Best for this week... and don't forget to enter our True Blood/Newsroom DVD/Blu-Ray Gift Pack giveaway!!
Unforgettable Season 1: Here's yet another show that we thought was cancelled but has been resurrected - and for good reason. Unforgettable takes a different twist with the procedural, as it features Poppy Montgomery's Carrie Wells, who has the ability to remember every detail from her life. While that comes in handy in crime investigations, it also takes its toll at times in her personal life because the one thing she cannot remember is the murder of her sister. And Montgomery anchors the show via both her crime smarts and her vulnerable side, too.
And on the eve of the second season kicking off later this month on CBS, the first season is now available and includes several featurettes including "Keeping It Memorable," "Production Design" and "The Rememberers." There's audio commentary on a few episodes, promos and the usual gag reels and deleted scenes.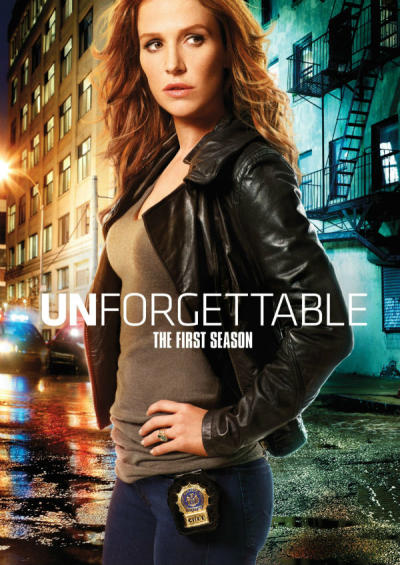 Burn Notice Season 6: The final season is airing now on USA, but the sixth season sucker-punched us with the latest adventures of a putting-being-burned-behind-him Michael (Jeffrey Donovan), a jailed Fiona (Gabrielle Anwar) and the rest of the gang, including the always terrific Bruce Campbell as Sam Axe.
The sixth season home video release includes the usual mix of deleted scenes and gag reels, but also has audio commentary for the "Shock Wave" episode with creator Matt Nix, Donovan, Campbell and director Renny Harlin. The commentary is entertaining and reminds viewers that there's a lot that goes into making this show and the action sequences are not something to be dismissed, even though they are used frequently on the show.
Drop Dead Diva Season 4: For the fourth season of the show that, like Unforgettable, came back from the dead after a premature cancellation, it's easy to see why the show still has so much life in it. Though I am never a fan of Kardashians getting work that real actors should be receiving (Kim appears in a multi-episode arc), the season still holds up with Jane finally deciding between Owen and Grayson.
With a mix of comedy and drama - as well as some interesting law cases - the fourth season DVD release is shy on extras (only outtakes and deleted scenes) but it's still worth adding to your library.
Web Therapy Season 2: It's a little show but it delivers a great punch of comedy in each episode on Showtime. Web Therapy, as you probably know, started online but the Showtime version has the episodes and Season 2 was a winner. With guest stars like Meryl Streep, Julia Louis-Dreyfus, Lily Tomlin (as Lisa Kudrow's mother), Rosie O'Donnell and Conan O'Brien, you can't go wrong with the show.
And you gotta love when the DVD extras pack a punch, too, with oodles of extras. There's a Behind-the-Scenes featurette, Director's Cut of Streep and O'Brien, an Auto Tune Music Video as well as deleted scenes, gag reel and a preview of the upcoming third season, which premieres on July 23rd.
Wilfred Season 2: Yes, it has an odd premise in how suicidal Ryan (Elijah Wood) spends the bulk of his time with his best friend... who happens to be a dog... played by Jason Gann in a dog suit. Is Ryan just living a fantasy in his own mind about Wilfred, who accompanies him regularly and also comments with his gruff, sardonic manner on Ryan's life? With Gann's terrific delivery and the hilarious situations, who cares whether it's real or not. Come for the laughs and you'll find them in Wilfred.
Extras on the DVD include an exclusive short called "Stay," a feature called "News At Noon With Jenna" (featuring co-star Fiona Gubelmann), a Wilfred/Ryan Mash-up as well as deleted scenes and a blooper reel. The third season is airing now on FX but if you need a catch-up, get your copy NOW.


Jim Halterman is the West Coast Editor of TV Fanatic and the owner of JimHalterman.com. Follow him on Twitter.