DVD/Blu-Ray Releases: Outlander! The 100! Vikings! and Mad Men's Final Season!
Jim Halterman at . Updated at .
The CW has been known for comic-book inspired series like Arrow and The Flash but The 100 is a step apart since we follow a time when Ark Survivors have returned to a post-apocalyptic Earth to find both salvation and more life-threatening danger as ever. And with the surprise romance between Clarke (Eliza Taylor) and Lexa (Alycia Debnam-Carey) also showed how to have an LGBT part of a mainstream series not seem separate from everything else. Bravo, The 100!
Outlander: We're only in the first season of Starz's epic Outlander but the Diana Gabaldon story (adapted by Ron Moore) is as big as the show itself. Time traveling Claire (Catriona Balfe) meets Jamie Fraser (Sam Heughan) and their romance begins as they fight the evil Captain Black Jack Randall (Tobias Menzies). The first volume was out earlier this year so pick up volume 2 to complete the amazingly beautiful first season.
Mad Men's final season wrapped up a series that will go down as one of the most influential of our times. Set in the 1960s, saying this was an office drama is terribly off the mark as the show took a unique look at the people who happened to work together as well as some of the family members pulled into the complex world. Jon Hamm finally won the Emmy last month for his role and with the final season now available on DVD and Blu-ray, it's worth the purchase to keep this one front and center in your library.
Another time explored – this time the late 1800s – is the setting of Little House on the Prairie which saw the entire series, including the 96-minute pilot movie, screen test of stars Michael Landon and Melissa Gilbert and a six-part 'Little House' Phenomenon documentary. Remastered and looking better than ever, the stories told and the characters we grew to love are what keep this series still popular with all ages.
More Drama Releases: Yes, Bones has been around long enough to have solved 200 cases in 200 episodes and the show continues to go strong on Fox. The season 10 release features favorites like Ryan O'Neal and Cyndi Lauper as well as a behind-the-scenes look at the noir-inspired 200th episode. We also get Sweets' Sweetest Moments (John Francis Daley left the series in season 10) and, of course, stars David Boreanaz and Emily Deschanel are the core of the long-running series.
For a different, more royal era, check out the second season release of Reign, which continues the epic drama of Queen Mary Stuart, Prince Francis, Queen Catherine and more as they balance the various relationships (family and romantic) and life stakes with fabulous costumes! The five disc set includes all 22-episodes and extras including deleted scenes.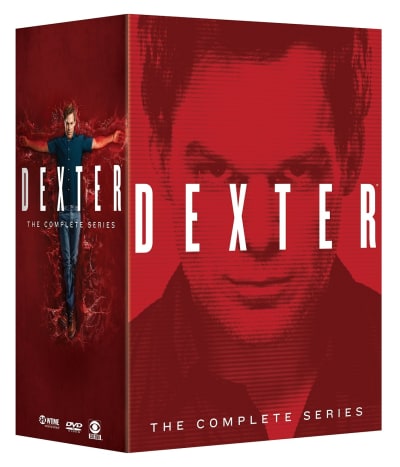 Box Sets: Two very different series released all their episodes in great box sets this month. First up, it's no wonder that Mission Impossible: The Complete Series is still relevant. With the Tom Cruise films still bringing in big money, interest in the 1960s series is higher than ever and all 171 episodes are in the new DVD box set.
For a very different type of drama, Dexter: The Complete Series, is still captivating in having a serial killer as the lead character that the audience actually roots for. But Dexter (played beautifully by Michael C. Hall), was a sympathetic character and we understood why he was killing those he killed. And while he fought his dark side throughout the series, the series had better seasons than others but it was never dull. The box set includes all 96 episodes. 
And then there's the world of sci-fi and comedy, which come together in the box set for the 60s comedy, My Favorite Martian. Starring Bill Bixby as Tim O'Hara and the always-fabulous Ray Walston​ as that martian who, to protect his identity, becomes Uncle Martin, the collection is available now for you to add to your Classic TV collection, The predecessor to such series as ALF and Third Rock From The Sun, the box set includes all 107 episodes of the beloved series as well as unedited, digitally remastered episodes and special features from the show. 
Vikings may not get the attention of HBO's Game of Thrones but it's just as good (if not better, as some say) but the third season continues the family saga of Ragnar, Rollo, Lagertha and Bjorn as, per the press release, "loyalties are questioned and bonds of blood are tested." With Ragnar now King, what comes next is epic in scale and engrossing to watch. The blu-ray and DVD release comes with nearly 2-hours of extra content so dive into this amazing world and series.
Horror: Showtime's Penny Dreadful did not come anywhere close to suffering a sophomore slump in its second season as we delved deeper into the world where Frankenstein and his monster co-exist with Dorian Gray and a slew of demons and vampires. And with a cast consisting of Eva Green, Timothy Dalton, Josh Hartnett, Harry Treadaway, Billie Piper, Rory Kinnear and Reeve Carney, TV drama (with more than a dash of horror) is one of the best out there.
Laughs & More Laughs: The Syfy movie franchise Sharknado 3: Oh Hell No! may be showing signs of wear and tear but you still can't help but get some laughs in this outing where Ian Ziering is back to fight killer sharks flung onto the East Coast.
Some laughs of a more high-brow nature come with the sixth season of ABC's Emmy-winning Modern Family, that includes special holiday features (Halloween and Thanksgiving) and a day with star Julie Bowen. The Showtime comedy Happyish had a longer road to get to the screen but was worth the wait. Originally set to star Philip Seymour Hoffman, his unexpected death caused a bit of retooling and Steve Coogan stepped in and fully inhabits the role of Thomas Payne, a 44-year old man who is going through a mid-life crisis and trying to find his place in the world.
Jim Halterman is the West Coast Editor of TV Fanatic and the owner of JimHalterman.com. Follow him on Twitter.