Is this is for Sookie? Will Pam and Eric really fight to the death? Just how useless have Alcide and Sam become?
The latest episode of True Blood - hilariously titled "F**k the Pain Away" - left viewers asking all these questions and plenty more.
Join Round Table panelists Matt Richenthal, Leigh Raines and Liz Henderson (from True-Blood.net) below as they tackle these topics and others in our weekly edition of this TV Fanatic feature. Gather around and chime in now!
-------------------------------------------
What was your favorite scene from the episode?
Matt: The opening one. Way to not be a damsel in any kind of distress, Sookie! This heroine took the fight as best she could to Warlow, half-dressed and light ball-laden. It's definitely a nice change of pace to have Sookie make such strong, assertive (repeat: half-dressed) moves.
Liz: I always love the flashbacks on this show. You get so much information and they really fill out the storylines. So I have to say Sookie's parents and Warlow's history.

Leigh: Pam in therapy was hilarious. She slays every scene she was in and her negotiation with the therapist was so fun. Also, I want to give a nod to Sarah Newlin. I'm loving her return to the show; maybe not as much as Jason, though.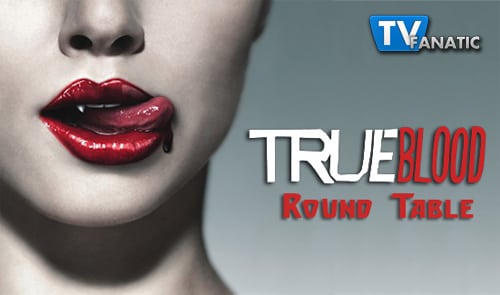 Who will win their showdown, Pam or Eric?
Matt: Clearly the answer is neither... or both. They are each surviving this battle. But who would win a fight between Pam and Eric? I'm going with the former. Eric has shown a soft side around beautiful women and few things on television are more frightening than Pamela Swynford De Beaufort scorned.

Liz: Both! I think they'll scuffle a bit and then together throw those stakes right through the window. I'm sure someone behind that glass won't be walking out of that room alive.

Leigh: Agree with Liz on both. Neither one would ever kill the other. Eric and Pam will put on a good show and then turn on Burrell together.
Is this the end for Sookie?
Matt: Yes, but she has a strong run. Rest in peace, girl!

Liz: Absolutely not. She's the center of the show!

Leigh: No way. She'll light ball zap Laffa. Sookie is too smart for that. Also, if Anna Paquin can get that body 10 months after having twins, she can do anything.
The Warlow and Lilith history lesson: So cool or so boring?
Matt: So cool. I'm a sucker for flashbacks, as any regular readers of my Vampire Diaries reviews would know. And these filled all the criteria: they filled in important character history that plays a key role in current, ongoing storylines. It was also just hilarious to be taken all the way back to A.D.

Liz: I loved it. It answered a lot of questions I had about the relationship and about Warlow himself.

Leigh: So into it now and love that it ties in with Bill. Somehow I've found myself rooting for Benlow. He just might be Sookie's destiny. And for the shippers who are gonna get all up in arms, that doesn't mean I don't like her with Bill and Eric. Just fascinated with Benlow.
Who do you care about less, Alcide or Sam?
Matt: Six-pack in one hand, half dozen different animals in another. Both are rather boring these days. But True Blood is notorious for featuring side storylines that never seem relevant to other characters for most of a season... only to eventually bring everyone back into the fold. So I'll maintain some hope that that's the plan here.

Liz: Alcide. I still don't care about the were storyline. And I don't care about Sam's either. I'd like to see Sam back at Merlotte's or helping Sookie. I just don't see where his story fits into this show at all anymore. I hope I'm wrong by the end of True Blood Season 6.

Leigh: Tough call. I like Sam better as a character this season, but I wouldn't mind seeing Alcide's bare bottom. It's a wash.