Covert Affairs Scoop: A Race Against the Clock, An Irresistable Offer

Carla Day at .
Covert Affairs season 4 has been a complex web of manipulation, deceit and secrets, with Annie at the pivotal role in the center of the whole mess.
In tomorrow's "Space (I Believe In)," Seth's body washes up, which forces Annie and her many allies into action to protect her. Her involvement in his death puts her life and career in danger. How far will she and those around her be willing to go in order to save her?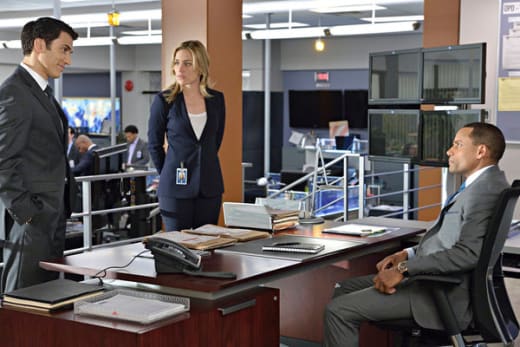 The hour will put you on the edge of your seat with characters that you care about at risk. It's suspenseful and full of unexpected twists. 
Here are seven teases about this heart-pounding episode.
Noam Jenkins returns as FBI Agent Vincent Rossabi. His contentious relationship with Annie doesn't soften at all. Annie infiltrates the FBI investigation into Seth's death as the CIA liaison and Rossabi is convinced that the CIA is involved in a cover-up.
When traces of skin are found under Seth's fingernails, it becomes a race against time for Annie. Can she find proof that Seth was corrupt and working for Henry before the FBI figures out that she was the last one to see Seth alive? 
Joan uses her new position to take oversight of the joint investigation, which upsets Calder Michaels. They go face-to-face when he takes matters into his own hands. The investigation provides more insight into Calder's loyalties.
Someone follows in Seth's path and falls from a height with deadly consequences 
The extent of Henry's reach will be revealed.
Henry Wilcox becomes more interested in Annie and her abilities. He makes her an offer that seems irresistible. 
The final scene is Piper Perabo at her best. Annie kicks ass and proves that she's no longer the rookie agent that left training early. She's a force to be reckoned with and is willing to stand her ground for what she believes in, regardless of the cost to her personally and professionally.
At the end of "Space (I Believe In)," the lines will be drawn between the sides. The question about who is on the right side and the wrong side of the fight is very much up for question! It's a whole new game.
Check out the trailer for your first look at what's to come:
Carla Day is a staff writer for TV Fanatic. Follow her on Twitter and on Google+.