Low Winter Sun continued to trudge along in the darkness, deception and murder that have been key ingredients in the freshman AMC series.
And while it is interesting to see a pair of cops investigate the murder they committed while trying to put spin on it and outwit the prying and persistent internal affairs, I keep hoping that some spark of life or breath of fresh air might find its way in.
There's just a feeling that something is missing, that aspect of the show that has you craving for more and dying to come back. Sometimes it can be the suspenseful story, the intriguing mystery or the compelling characters, but the episodes haven't quite achieved the level of griping drama that even the series wants it to be.
And for now, a lot of that lies in the fact that there aren't really any characters to get behind that stand out because they are cool or fascinating or brilliantly evil.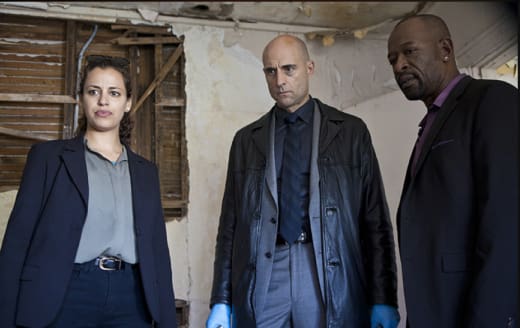 Frank Agnew seems like the obvious choice to fill that job of great character, and I like Mark Strong in the role, but Agnew is so cold. Maybe it's because he's so caught up with his own demons or that he rarely smiles. You at least want him to overcome Simon Boyd, Joe Geddes and find Katia, but at the same time, you want to see more from him.
I find Damon Callis to be an interesting character in his rise to power and the way he handles himself in situations.
But do I care when he gets betrayed by his helping "crew" or that he's upset with his wife? And what are we supposed to think when he lets his friend die rather than take him to the hospital?
At the same time, the moment of that friend's death may be traumatic and dramatic for the characters involved, but we as an audience barely knew the guy. He was Damon's right hand man, but what else? He hasn't done enough or been around long enough for his death to have an impact.
But maybe his death was really just supposed to show what type of man Damon is. Truthfully, good people are hard to find.
I'm curious as to where the Sean, the former cop, and Maya's relationship will go. She clearly still has a thing for him, even if it's pity. If only Sean would stop taking drugs. And why was he kicked off the force?
And that's the thing, "Cake on the Way" was an okay episode, but one that doesn't demand a second watch or the type of hook that sucks you in.
It looks like Agnew and Geddes might be in the clear (we know that can't last long), but I did like seeing them try and figure out a way to prove their suspect was the murderer.
And it was interesting that the show played up the boxing element in an attempt to reveal something outside of the work and ultimately play a mini-love game with Agnew and Dani Khalil. That was an awkward almost kiss, wasn't it?
I feel like Dani might figure everything out at some point, but I'm not sure if she (who has been the good cop so far) might get swept into the corrupt world. There's no way she's getting out, that's for sure.
There was a teasing moment with Agnew on the computer comparing the written names and it does make me intrigued to know where the show might go with that, but it still hasn't invested me enough in the characters for the journey itself to be as fascinating as I want it to be.
Even as the ups and downs of the story continue surrounding the murder investigation, I'm still waiting to really care about those characters and not just see them as standard gritty cops on another dark cop drama.
Sean McKenna was a TV Fanatic Staff Writer. He retired in May of 2017. Follow him on Twitter.