With new showrunner John Wirth all aboard for Hell on Wheels Season 3, the series was in for a change of direction. Gone was the revenge-fueled Bohannon, replaced by an outlaw trying to be a law-abiding citizen and leader of the railroad, struggling to earn his place and overcome the various problems along the way.
So was it worth buying a ticket for this season's ride? Read on for TV Fanatic's report card...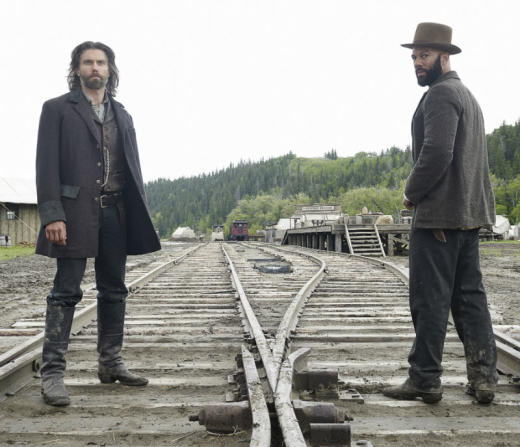 Best Episode: I was underwhelmed with the premiere, "Big Bad Wolf;Eminent Domain," but the following episode, "Range War" renewed my hopes for the season. Bohannon was a badass both in the action scenes taking out the bad guys and in his confrontation with Durant, even dragging in the dead guy to prove a point. There was charm, humor and a turning of a story that looked to be an interesting transition away from just the revenge arc.
Worst Episode: There were some lackluster episodes this season, but, "Get Behind the Mule" takes this honor. Maybe as a mid-season finale or somewhere else in the episode order I might have felt differently, but as the finale, it was a let down, even with great performances from Anson Mount and Christopher Heyerdahl. While shocking, yes, it was still a ridiculous turn of events. Elam throwing his gun at the bear? The Mormon girl is pregnant? Sure, season four could give payoff to those events, but what about everything we watched all season? It was a frustrating letdown that seemed to go out on more of a whimper than a bang.
Best Character: Cullen Bohannon for sure. OK, so he quit his revenge streak and tried to be a law abiding citizen, but he still carried the show with his cool swagger and southern drawl. I may not have understood some of his decisions, but as a character he was definitely growing and changing from the man who was only focused on revenge. Plus, Anson Mount embodies him like no one else could with his lines and looks that make him one of the biggest reasons to watch the show.
Worst Character: The loss of Lily Bell was tragic and of course, the series tried to fill that void with the introduction of Louise Ellison. A tough task for sure, but unfortunately Louise really didn't provide anything as a character even under the guise of the take-charge world famous reporter. She was merely there to move certain plot points along or narrate scenes unnecessarily. If she was taken out of the season, would we really notice? Hopefully, she gets a chance to become a real character next season.
Most underused character: The Swede is a fantastic antagonist to Bohannon. Every scene with him is filled with tension and his creepy demeanor has you guessing what he might do (probably not something good). Unfortunately, he didn't return to cause problems for Bohannon until the last episode of the season leaving Bohannon to deal with silly over the top "villain" Durant and those pesky railroad problems that always seemed to get fixed just in time. The Swede and Bohannon interaction is engrossing, and I just wished there was more this time around.
Grade: C
Hopes for Season 4: I'm pretty sure Hell on Wheels will get picked up, especially since Breaking Bad is done, The Killing was cancelled again, and Mad Men is closing up shop. I just hope that if season three was the transition period with the new showrunner, that season four gives us a story to follow the whole way through that isn't just building the railroad with mini self-enclosed problems solved each episode. I want some real stakes for the characters and situations (Mickey could be an interesting antagonist) and more cool action pieces like in "Father and Sins." I have a soft spot for the series because it's rooted in that Western theme, but it's got some work to do if and when it returns.
Your turn, TV Fanatics! What grade would you give Hell on Wheels Season 3?
Sean McKenna is a TV Fanatic Staff Writer. Follow him on Twitter.