The creative process and personal boundaries were both at the forefront of "Let's Be Mad Together" on Parenthood - and watching the progression of the stories was fascinating.
The expectations placed in front of us via the the previews weren't even the best part of the hour, which was a nice surprise.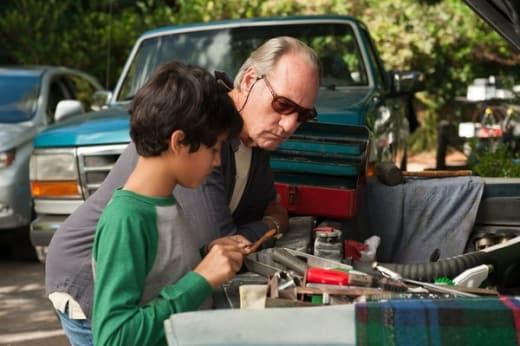 Amber, Ryan and Sarah Sarah had a superintendent emergency, and Ryan went to her rescue. But Sarah greeted him with the wrong conversation. That sent up some red flags up for Ryan, who realized that Amber had shared a lot more about their personal life - including his break during his friend's funeral - with Sarah than he realized.
Finally, we were given some perspective about what it must be like to walk into the Braverman family. We had the opportunity when Jasmine joined the family because she has clearly never quite accepted the whole of the Braverman experience, but she has never expressed her feelings like Ryan did.
Ryan's discussion with Amber about feeling ambushed because she didn't feel comfortable telling him how much she had shared with Sarah was difficult for him and yet that he wasn't afraid to bring it up spoke volumes about how much he feels for Amber. All of my fears for Amber and her future flew out the window in that moment because he called her out on keeping quiet things they should have out in the open. He's getting it.
His subsequent conversation with Sarah felt borderline formal, but it was an appropriate way for him to share that information about his past. He need to get it out there and let it sit. He didn't want her to think he was looking for pity or making excuses for his behavior, merely stating exactly what his intentions were regarding Amber. Finally calling her Sarah at the end was the perfect finishing touch.
Joel and Julia blend into Camille and Zeek Joel and Julia are still not communicating well and Joel's rusty running his own business. Julia knows what it's like to work for women like Peet. Joel doesn't want to hear that he might be in over his head, that a woman might be taking advantage of him or that his unemployed wife might know more about the business world than he does. It's going to hurt his family. His conversation about boundaries with Peet went horribly.
Peet said something to this effect: put in sweat equity now, never ask the client for money and come in under budget. Meanwhile, she can't go two hours without changing her architectural plans, which means he has to constantly rework what he is asking his team to do. Every hour he works is worth less money, and every hour his team works longer than necessary will not only eat into his profit, but will most likely eat into their savings, because as the business owner, that's where you get your money: you're own pocket.
At least Joel had the courtesy to get drunk sitting through that farce of a conversation. He knew how badly he messed up because of how he snapped at Julia the next day. He knows he doesn't know what he's doing and he can't admit it. He's going to have to, though, because it's their money he'll be spending when things start to fall apart.
Julia connected with Camille when her mom told her she lost her voice in her marriage. She's suffering with Zeek's dismissal of her needs, and the timing of everything with Joel put Julia in the perfect place for her to understand what Camille was feeling. She got to tell Zeek everything she was unable to tell Joel on her mom's behalf, because she's too close to the situation in her own world. 
Max and the yearbook The relationship between Max and Hank continues to grow, as Hank sees in Max the beginning of an excellent photographer. Hank is a photographer's photographer - he is a traditionalist. He uses film and lighting and scoffs at Photoshop. He prefers candid shots over portraits and is sharing all of these passions with the eager and talented student he has in Max.
Unfortunately, for an autistic kid who also wants to be the yearbook photographer, the skills aren't the best blend. He's unable to understand personal boundaries and artistic license and angers the parents of a girl he photographs crying in the hallway at school. Hank believes the work is absolutely stunning, and he's right - but his endorsement doesn't do anything to help convince Max to try to work differently.
It was good to see Kristina's emotional plea to allow Max remain the yearbook photographer be denied. Not because he isn't good at it, but because every time she steps up to the plate to swing on his behalf, it can't be a home run. He'll learn how to use the dreaded Photoshop. It won't be his favorite thing to do, but he'll still be a part of yearbook, and he can continue taking photos and working with Hank on his own time.
The Luncheonette Adam kept up his end of the bargain to get the rights to the Ashes of Rome songs and, as Crosby expected, Oliver drove them nuts with his creative process. Watching Adam and Crosby work together is so fun because in their anger with each other they push each other to be their best. As brothers, their competitive advantage is the idea that neither wants to be a failure in the eyes of the other.
They take equal turns at being frustrated and annoyed, but always there is a flash of light that comes through it that drives them to an epiphany even greater than they imagined. They trust each other, love each other and together they will be successful. The moment when Crosby finally took the reins and told Oliver no more layers or sampling, just great music and his fantastic voice - that's what would make their album a success - it was almost a clap out loud moment.
Oliver knew he was witnessing Crosby at his best, too, and it's that type of respect that Julia was hoping Joel would show Peet. When somebody is so confident in what they do they're unwilling to take no for an answer. Ryan went to Sarah's with that same attitude and he, too, walked away triumphant. 
There were some losses, but the wins out-shined those by a huge degree tonight. To relive some of the best moments, head on over to the Parenthood quotes section and then leave your thoughts about the show in the comments!
Carissa Pavlica is the managing editor and a staff writer for TV Fanatic. She's a member of the Broadcast Television Journalists Association (BTJA), enjoys mentoring writers, wine, and passionately discussing the nuances of television. Follow her on Twitter and email her here at TV Fanatic.