Welcome back to TV Fanatic's Grey's Anatomy Round Table!
Our Grey's Anatomy review broke down "Thriller" in great detail. Now, TVF's Christina Tran and Steve Marsi, along with Jarrod Mitchell, are back for a Q&A discussion.
Read their answers below and weigh in with yours!
----------------------------------------
What was your favorite quote or scene from the episode?
Christina: I actually really liked the spooky music and the outrageous medical cases. I thought "Thriller" was fun and well done. Honestly, I was a little freaked out on more than one occasion. I would have never expected for that to happen with Grey's Anatomy.
Jarrod: My favorite scene was probably the ending with Cristina and the cupcakes. It's like she wanted to let Mer know she was there, but without being there. It's as if she can still rely on her. Very bitter-sweet!
Steve: I liked the campy feel of it overall, and the fact that Richard finally apologized to Meredith. That was a long time coming and I'm glad it wasn't simply ignored. Great that he's teaching again, too.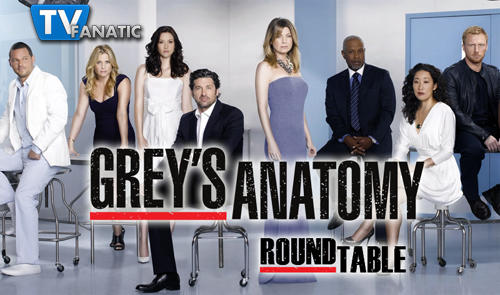 Which spooky medical case was your favorite?
Christina: The zombie one! I was shocked Leah was actually bitten.
Jarrod: As much as I enjoyed the zombie, I must say the maggots in the leg. Not exactly a case I'd expect at Grey-Sloan memorial.
Steve: A maggot-infested wound is straight out of Dead Alive, not Halloween ... so I'll take the girl who was kind of literally scared to death.
Who had the best costume?
Christina: Jo! I really like her and she totally rocked her Tinkerbell costume.
Jarrod: Definitely little Sofia in the astronaut-princess costume. I'm not a Calzona fan, but to see both Callie and Arizona getting along for the sake of Sofia was very touching.
Steve: Jo, hands down. Cutest adult Tinkerbell ever. Sorry if that sounds creepy, but it's true.
Are Mer and Cristina on their way to reconciliation?
Christina: I am not sure, but I hope so. I'm already tired of seeing the besties on the outs. Surely, there are more stories to tell before Sandra Oh makes her exit.
Jarrod: I know they will. We've been through this in Grey's Anatomy Season 5 and Grey's Anatomy Season 7 and this is just another roadblock in their friendship. They'll be back on track before they know it. The question though is whether or not it'll be the same.
Steve: Hopefully, because it would be a shame if Sandra Oh's swan song was predominantly spent partially estranged from her person. I have to think they'll get back on track soon. If not the way it was, at least to a point where they're both happy with it again, given the changing circumstances.
There were some interesting Leah/Arizona, Stackson, Japril and even Crowen moments. Who are you shipping these days?
Christina: Jolex! Stackson is growing on me.
Jarrod: I'm been a Stackson fan since it happened. However, it's just annoying that they're not seen together like a normal couple should be. Nonetheless, Leah/Arizona are an intriguing couple.
Steve: I like to say Stackson the most, but I'm always a sucker for Crowen, and Arizona/Leah has piqued my interest as well. And of course Jolex. And MerDer. Guess I'm easy to please these days!
What do you all think of this week's Grey's Anatomy Season 10 Episode 7? Share your responses below, and tell us where you think the show should go next!