Hart of Dixie Review: The Hanukkah Miracle
Kate Brooks at . Updated at .
The 2013 finale of Hart of Dixie Season 3 was filled with laughter and heart-warming moments that made it the best episode of the season thus far.
And why is that?
On Hart of Dixie Season 3 Episode 8, Zoe finally was FINALLY accepted by the Wilkes family while Tansy and Shelby made their triumphant return to Bluebell with some reveals along the way.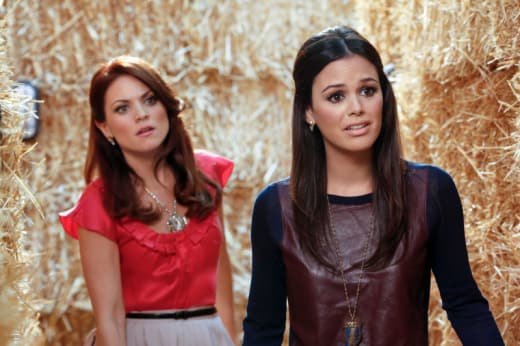 Let's take a second to discuss the kiss between Zoe and Wade.
First, I'm surprised it took this long to happen. Second, I am pissed she is going to tell Joel - regardless of his relationship with Wade, it's lying. Third, I still want Zoe/Wade together in the end.
Did she enjoy their kiss? Obviously. Otherwise she wouldn't want it to remain a secret. The same goes for Wade. In conclusion, with the addition of the Vivian/Wade dynamic, Joel won't last much longer in Bluebell.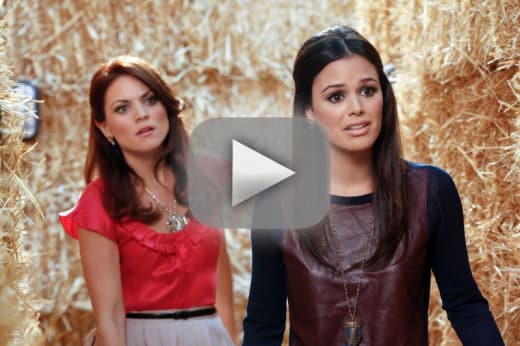 During the hour, so many other great things happened that I LOVED. To wit:
Shelby returned, very pregnant, I may add. Sadly, not only for Brick but us viewers as well, he's not the father. Was I the only one really excited to think he was going to be dad again? This would have been so great!
Tansy is back! How do we know she's staying? She took a job at the Rammer Jammer, no thanks to Wade. I love Tansy and the best thing she can do is drive a wedge between Linley and George.
Nothing made me happier than her return because this will hopefully mean Linley will leave Bluebell! The only problem she will cause is this: when she helps end the relationship between George and Linley, Lavon will be very upset with George. Sigh.
Wade Kinsella and Vivian Wilkes as a new couple! Do I love it or do I love it!? This is wonderful! Will it make Zoe jealous? Absolutely! Will it bring Zade back together? Who knows, maybe? There are so many possibilities with these love triangle.
Joel and his Nanny were so cute. I hope she comes back, especially for Brando's sake.
The Wilkes have accepted Zoe Hart! I am so happy for Zoe! For once, she finally has a family that is loving, caring and traditional as families go. I look forward to the addition of the Wilkes.
Elsewhere, Lemon Breeland is leaving for awhile to take care of Grandma Breeland. (In case you didn't know, the real reason is because Jaime King had her son, and will most likely be away for a couple of episodes to care for her newborn, James.)
To be honest, Grandma Breeland deserved to break her hip. She looked like she was about to burst when she was yelling at Lemon and Brick. She is crazy! The Breeland's need to have her admitted somewhere to get the help she truly needs. Isn't she great, though?
Overall, this episode was thoroughly enjoyable. It was light, it was fun and, most importantly, I ended the installment with a smile. Dare I say, it reminded me of what made Hart of Dixie good in the first place?
Tonight was an episode like we used to see during Hart of Dixie Season 1. It really was a Hanukkah Miracle.