Dallas Spoilers: Josh Henderson Teases "Intense" Season 3, The Future for John Ross
Jim Halterman at . Comments
History is repeating itself on Dallas.
When the TNT hit drama series returns for Season 3 in February, watch for the legacy of JR Ewing to continue to weave its way through the stories and characters of the rebooted soap.
But it literally lives on in the character of his son, John Ross.
As played by Josh Henderson, John Ross may have had his share of Daddy issues (with a father like JR, wouldn't you?) yet he also has not only possesses determination, but maybe a bit of greed in the mix when he goes after what he wants…even when that includes the ladies.
How is John Ross handling business when Bobby and Christopher have different agendas? Is the young Ewing able to juggle his new wife Pamela with his mistress, Emma?
Below, Henderson gives us a preview of what's to come when the new season kicks off and, considering the season we're in, we had to start off by talking about the holidays...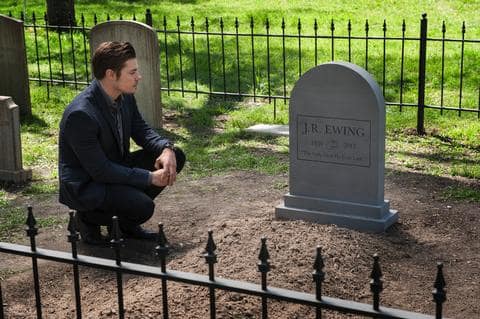 TV Fanatic: When we left off in season two, John Ross married to Pamela but is sleeping with Emma. Best of both worlds?
Josh Henderson: Oh, John Ross. Why I love playing that character so much and the writing on Dallas in general for me, it's just the audience will never ever know what I'm going to do next and I keep them guessing. The writers keep me guessing.
Yeah, season two left off with John Ross being obsessed with who killed his father and then figuring it out through the help of Bobby and Bum. Obviously, he wasn't happy with any of it, but he understood so now he's on this war path of, 'now what? How do I continue to stay a couple steps ahead of everybody?'
So he marries Pamela, he realized that he can get some info out of Emma [and] all that stuff, it's going to play out through season three. Some big, big stuff that he ends up kind of doing with her and obviously it becomes a sticky situation because she kind of falls for John Ross and John Ross is married. That never really stopped JR so, you know, history is kind of repeating itself a little bit.
TVF: Is he going to be vulnerable at all with any of these women or does he have his heart too guarded for that?
JH: Right now, he is kind of obsessed with this back and forth of 'I'm not my father,' but he kind of really is, and he's very much seeing a lot of JR in him and so is everybody else. So, it's kind of a constant struggle and battle with him.
When it comes to the women, he does truly love Pamela. He doesn't want to hurt her. He knows that what he's doing is he's just walking a dangerous line. I think the audience knows -- we all know and so does he -- that Pamela being Cliff's daughter, she's probably capable of doing some crazy stuff as well. He doesn't want to open that can of worms so he's really trying to tiptoe around what he's doing.
Sue Ellen, obviously, that's a whole other thing that's going to be a big storyline with John Ross is his relationship with his mother. She finds out some things that he's doing and she starts to see JR in him as well, a little too much, and it really worries her. At the time right now, with these other women, it's all for business. It's just using them as chess pieces for his game you're really going to have issues with those two worlds colliding.
TVF: I'm always a little concerned Sue Ellen's going to get a little too close to those liquor bottles. I hear that she might get too close this season. Is that something you can talk about at this point?
JH: Obviously when JR passed she had a few drinks and she was drunk at the funeral, and that's something that's a deep concern and a pain in John Ross since he was a kid. He hates seeing his mother drinking. He knows it's not good, it's not a good situation, but the things he does and his actions this year, you know, it definitely is going to have his mother on the fence of how does she deal with what she knows John Ross is doing. She's going to have some dark times, dark moments. We have a scene in the middle of the season that gets pretty intense.
So, I think fans are going to love the Sue Ellen story line this year but definitely her and John Ross' relationship, it's an intense deal this year. It comes to kind of an explosion.
TVF: John Ross and Christopher are always on again off again as far as just being on the same page with family and business. Are we going to get more of that this year?
JH: Christopher is very much on Bobby's side when it comes to their beliefs, what they believe he should do when it comes to drilling on Southfork, he believes the same as Bobby does. It's basically the opposite of what John Ross wants and believes that the Ewings should be doing. So, they will work together, we're all at Ewing Global now, but at the end of the day, Christopher never trusts John Ross no matter what I'm doing. We're not getting any friendlier necessarily this year.
The cool thing about Dallas and what the fans love is that there is always so much family turmoil and we're always at each other's throats but as soon as an outside source comes in and threatens us we kind of band together. So, it's kind of a circular deal and you're going to get a lot of issues that are going to go back and forth, but at the end of the day John Ross and Christopher, they're butting heads.
TVF: Since it's that time of year, are you a big holiday person that just kind of gets into Christmas or is it just more of a time to relax for you?
JH: I'm very much into Christmas but usually every year in LA I have a big party that people are very, very upset that I'm not doing this year because I don't have a place actually in LA this year, but I always do an ugly sweater party. I think one year we had a thousand people at my house and I probably knew about 100 of them. So, it was a big party. I go all out. I actually get real snow brought in, fill the yard with snow. I have a couple different Santa Clauses come by…it's actually kind of nice here in Texas because we got some snow on the ground so it really kind of put me in the holiday spirit.
Dallas Season 3 kicks off Monday, February 24 at 9/8c on TNT.
Looking to catch up? Watch Dallas online now!
Jim Halterman is the West Coast Editor of TV Fanatic and the owner of JimHalterman.com. Follow him on Twitter.