After years of fans begging and practically beating down the doors, Psych the Musical is less than a week away from airing on USA Network.
What can fans expect from this special, two-hour installment, which airs on Sunday, December 15 at 9/8c?
We've seen it, we'll post a detailed review after the episode airs and we've teased fans with a few tidbits below...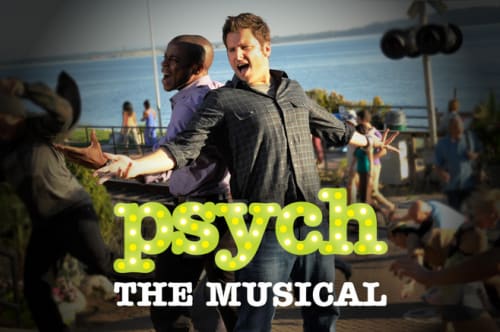 Every regular cast member and guest sings except one.
An unexpected return takes place, and not the one you're thinking of.
There will be references to past cases that span all the way back to Season 1.
Tap dancing will be involved.
And lots of Skype-ing.
Tim Omundson has a velvety baritone voice.
We will be live tweeting this singing-and-dancing event and would love for you to join us by following @PsychTVF on Twitter!
Psych Season 8, meanwhile, will premiere on January 8.
C. Charles is a TV Fanatic Staff Writer. Follow her on Twitter.