Revenge Boss Spills on The Shooter, Love Triangles and What's Ahead
Jim Halterman at .
[Spoiler Alert – the following reveals major plot points from the winter finale of Revenge Season 3.]
Bang! Bang! Splash!
The wedding happened. Patrick returned but for his mother, not Nolan. The perfect plan to frame Victoria for Emily's 'murder' went awry. And who shot Emily but her new hubby, Daniel!
So much awesomeness went into last night's Revenge Season 3 Episode 10 and, thanks to an early press screening followed by Q&A with showrunner Sunil Nayar, I was able to get the answers to all those burning questions... and a preview of what's to come when the soapy ABC drama returns in January.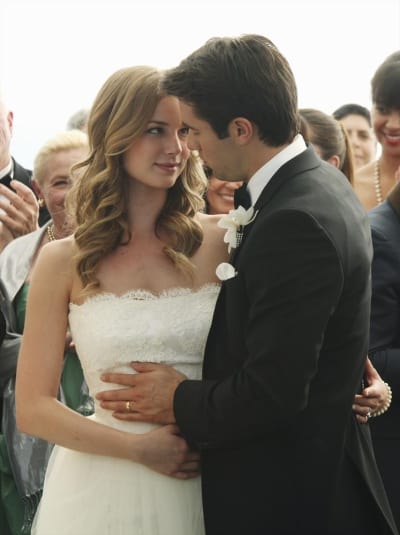 Was Daniel Always The Shooter? "We played around with lots of different options," Nayar said. "We had three different people that we were really seriously considering then tried to make it work and also just really thinking 'what are the stories we want to try to tell that come out of the shooting?' because there were lots of great setups for who the shooter could be but then we're like 'we just want to do the one that's kind of the juiciest' and then ultimately changes the show as much as possible."
Nayar also said when Josh Bowman found out it was his alter ego that pulled the trigger, "he was blown away."
Daniel Transformation:  The way Daniel came back to the wedding party…did the shooting not phase him at all? "He's tormented by the nature of what he's done," Nayar explained. "You even get a sense that right after he shot her there's this regret that he did a thing in a brash act... it's not like you don't understand the impulse to do it."
In fact, the shooting and what comes after may change Daniel forever. "I think you're going to see a real transformation in him that there's a regret that will come from it initially but then it'll grow in to a kind of strength, a kind of hardening in Daniel Grayson because the person that he kind of trusted the most is really upended the nature of that trust and so I think it's going to be a great journey we're going to put him on."
The 'Who Am I?' card: As we saw in the previews for the January episodes, Emily not-surprisingly survives the shooting but seems to have lost one thing: her memory. Or has she?
"She has at the moment lost her memory of all of [the shooting] and you'll see how we play out the amnesia storyline," Nayar said of the classic soap storyline. "I think that what we've done with it is the way that Revenge would it in the way that's extremely satisfying that you will see in the first episode back."
The Executive Producer also teased that Emily may decide when to let others know when her memory returns. (Smart girl, right?)
Nolan + Patrick: While Patrick's return last night was a pleasant surprise, he spurned Nolan's advances that they continue their romance. Is there reconciliation in the future for the two lovebirds?
"I think the two of them have been so great together," Nayar shared. "Frankly, what we're going to do is we're really going to put them through their paces when we come back. Happy relationships are all fine and dandy but that's not where this show thrives and so Patrick's kind of seeing that there's this space between this painting that Nolan obviously bought from his mother is going to have him call into question with whom his fidelities lie and I think that the answers are going to really cause a lot of kind of great conflict in the Victoria/Nolan/Patrick triangle."
The Claws Are Out!: Nayar teased that the once behind-the-scenes fighting will now be more out in the open for a variety of reasons. "Patrick saw where the infinity box is hidden," he said, "Victoria's seen that picture [of Emily as a server at the past party]. There's no going back on that…we wanted to set up things that change it that [the Graysons] have a greater knowledge who Emily is going forward and then Emily will then slowly understand that the circumstances of what she can do are now drastically different also."
Love For Charlotte: Well, if not love, at least lust for the young Grayson. "She will slowly come to see Emily in a different way," Nayar explained, "which is going to sort of cause that rift between the sister that she's always tried to get closer to." And, since we've seen that Charlotte is no longer the innocent teen from the early seasons of the show, expect that to translate to her love life.
"We want to give Charlotte a love interest in the second half of the season because now that she is more of a woman it's time for her to sort of acknowledge her as such and we have a way that we think we could do that that will also create more conflict in the world of Emily and Nolan."
A Jack & Emily Thaw: While Jack knowing Emily's secret has kept him frosty towards her most of this season, that's about to change. "He will come to see in the aftermath of this shooting that it's really his ultimatum that's led her to be in this position," said Nayar. "There's a bit of culpability that he has for it and so you're going to start seeing the thaw between Emily and Jack as we get into the second half this season." But will they actually end up in each other's arms? That remains to be seen…
Excuse me…What About Aiden?: With Daniel and Jack in the picture in varying degrees, what about Aiden, who declared his love and asked Emily to marry him? Don't worry. The triangle (or quadrangle?) is still very much on.
"Aiden is definitely still in the picture," Nayar said. "His plans have obviously gone awry. His future has just been upended and that Emily is going to have to stay in the Hampton's for a little bit is confusing to him and you'll sort of see there's another great introduction into the Aiden back story that sort of takes him into the future that shakes things up between him and Emily too."
New Characters Coming: While Nayar teased that Amber Valletta's Lydia would be sticking around to cause trouble "for a little bit longer," he did talk about other new characters coming including Stephanie Jacobsen as a woman from Aiden's past and, as reported on TV Fanatic, Brett Cullen as Patrick's father, Jimmy, and Gail O'Grady as Conrad's ex-wife. Margot's father, Pasquale, will also be returning.
Timeslots!: After the three January episodes, the show is off until March, primarily due to the Olympics. But it will be airing at 10 .p.m on Sundays, which Nayar feels is a good thing. "I love it. I think [it] gives us a chance to, like, dig deeper into the more messy, darker, subject matter. I think it's a real great vote of confidence in the show by the network. It's a time slot we think we can come into and own."
Revenge (typically) airs Sundays at 9/8c on ABC and remember you can watch Revenge online right here on TV Fanatic.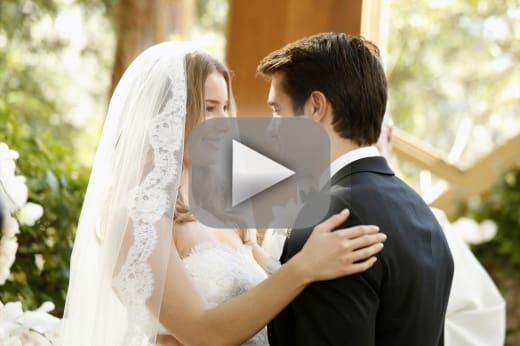 Jim Halterman is the West Coast Editor of TV Fanatic and the owner of JimHalterman.com. Follow him on Twitter.