American Idol is heading to Detroit for auditions tonight as the judges continue their quest to find a star. Michigan is home of many famous rockers, rappers, and Motown, proving the city is no stranger to talent.
Will Harry, Jennifer, and Keith find a star in Motor City? Maybe!
Let's get started!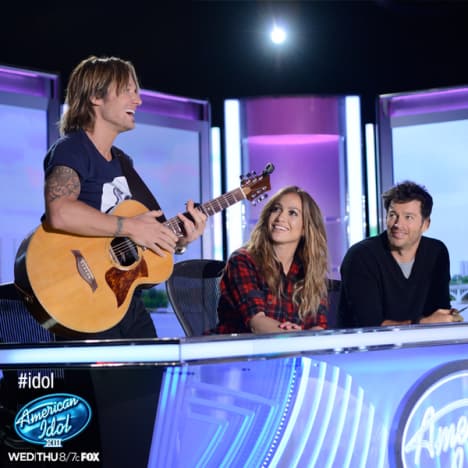 First up for the night is guitar playing waitress Keri Lynn Roche. She has a great look and sings "Radioactive." Keith asks her to sing without the guitar and she sings "I'd Rather Go Blind" by Etta James. There's soul in her voice and the judges love her. She gets an easy yes and starts the day off with a golden ticket.
Julian Miller draws on the Motown influence running throughout Detroit for musical inspiration. Keith calls him an "artist who's going somewhere" and they hand him a ticket.
PInk-haired Paris Primeau has brought an entire entourage with her to auditions. Samantha Furtwengler and Olivia Diamond are also talented musicians. All three have ways to grow but all seem capable of at least another round. Paris gets a golden ticket and so does Olivia. Samantha gets a see you next year.
Malaya Watson is a tuba player in her high school's marching band. She has to shake out her nerves before she sings, which is a decent way to loosen up the room, but her voice was enough to do that. She has a huge voice that earns her a ticket to Hollywood.
Brian Watt sings Carrie Underwood's "So Small." He hails from Thomasville, GA, which isn't too far down the road from former Idol winner Phillip Phillips' hometown. Harry says he looks like a superhero and Keith compliments him on his guitar-playing. They all tell him not to be afraid of putting his heart in his songs and then Harry tells him to bring a cape to Hollywood.
Khristian D'avis' was born in Detroit but now lives in Chicago where she sings with her band. She gives an interesting performance that isn't necessarily exceptional. It isn't terrible, but it isn't great. Keith calls it inconsistent and they all notice that she's lost her accent as soon as her performance is over. Keith gives her a no and Jennifer and Harry both give her a yes. She goes to Hollywood. 
17 year old Jena Asciutto was in a band for four years. She's chooses Adele's "Rolling In the Deep," and the arrangement is bizarre. Harry critiques the way she holds her tongue when she sings and Keith loves her voice. Jennifer loves that she made the arrangement so unique. They send her to Hollywood.
Finally there's a string of no votes, not that I want to see the bad auditions, but there for a bit it seemed like no one was being sent home. Among those they rejected was a singing manicurist. I mean, who doesn't want to be serenaded while having her nails painted?
Kennesaw, GA girl Melanie Porras has a Haley Reinhardt vibe. Her father was also a musician and Melanie definitely has a similar rasp to her voice. They also look like they could be related. Harry tells her she has the seeds and is on her way. Keith loved her voice and the fact that she did the opposite of what they thought she might with her auditions (she sang "Fever" with guitar and Bon Jovi without). They loved her and gave her an easy yes.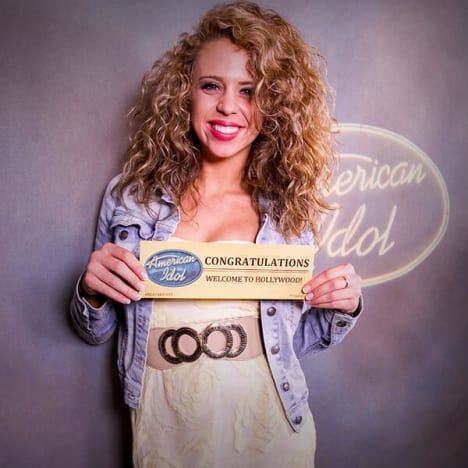 While Jennifer takes a bathroom break, Harry pretends to be an auditioning for Keith. That might be the best audition of the night.
Once she returns from her potty break, Liam Newberry, who was raised on Harry Connick, Jr.'s music, auditions with "The Way You Look Tonight." J.Lo tells him he lacks the swag necessary for that sort of song and Keith tells him he's missing sexiness. Harry tells him he needs to pretend to sing that song to the person he loves instead of singing it like he's on a stage. Harry says he's not ready and Liam wants to prove him wrong. But they send him home.
Jade Lathan picks an Amy Winehouse number for her audition. They all love her. She gets a ticket.
Sarah Scherb sings for the judges and then Harry jabs at Jennifer about how Jennifer doesn't fly commercial. It's pretty funny and then they give Sarah a ticket.
Sydney Arterbridge sings "Loving You" and hits the high notes flawlessly. She gets to go to Hollywood.
Maurice Townsend is a music minister and full time student and father of four. He says people in his family just "come out of the stomach singing." He's really good. Keith said that halfway through he just felt like he was in the audience at a concert and when Maurice walks out to get his kids, Harry whispers to Jennifer that Maurice should've recorded that song instead of John Legend. He gets a golden ticket.
Day Two in Detroit dawns and the search continues.
David Oliver Willis made it to Vegas last year before being cut (so the judges/producers could stack the deck so a girl would win...) and he's back again this year for another shot. He's just as awesome this year as he was last year. Harry tells him he's going to have to put down his guitar in order to flex his muscles. They give him a golden ticket and send him back to Hollywood.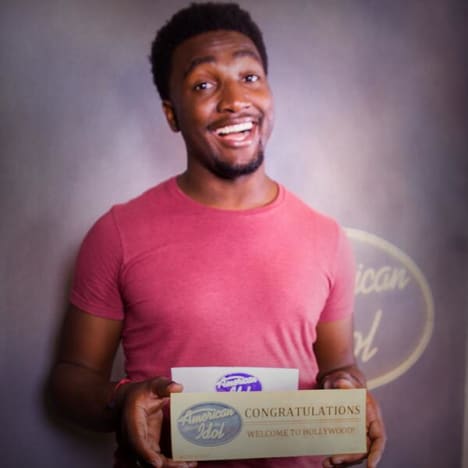 Karlita and Rakita Gulledge are 19 year old twins from Detroit. They answer each other's sentences and have "natural talent." So naturally they decide to tackle Beyonce's "Listen." And I don't want to listen anymore. That was awful. Keith can't even add anything to the critiques Harry and Jennifer gave and the judges can't get them out of the room fast enough.
Brandy Neelly is back to audition again, and Jennifer remembers her. Jennifer noticed a nasally quality in her voice and Harry notices a guttural quality in the back of her throat. He thinks that's something that she'll have to decide for herself whether to keep or ditch. They ask to hear her again and give her a golden ticket.
"Little Ronnie Osmond," Ethan Harris, walks in and he's a big Keith Urban fan. Before he sings, he asks for Keith's autograph. Then he sings a Keith Urban song to Keith Urban. It's not good at all but Harry and Jennifer both like it. Keith has mixed feelings. They send him to Hollywood.
Zach Day, Symphony Howlett, and Leah Guerrero are three more singers auditioning in Detroit. Leah feels like American Idol is going to help her get where she needs to be. Zach has been trying his whole life to find his passion. Symphony has a lot of drive and doesn't plan to stop, no matter what. All three of them get golden tickets with their very valid critiques.
Ayla Stackhouse is from Detroit but she's currently living in Hollywood in pursuit of her dream of being a singer. Motown, she says, made her want to become a singer. Her song choice, "Wings" by Little Mix, wasn't the best. It wasn't bad, but she needed something different. Keith loved her song choice though. Harry thought she had raw talent. They sent her through to Hollywood.
Eric Gordon walks in without a guitar, which is a change for the guys of the auditions this year. He sings John Mayer while rocking a Members Only jacket and Johnny Bravo hair. He gets a ticket to Hollywood.
As Day Two in Detroit winds down, Xavier Calvillo auditions with a CCR song and the judges try to tell him no. He asks to sing without the guitar and Harry tells him to leave with his dignity. They send him home and he keeps begging while walking out of the audition room.
Tony Delbarrio looks like Weird Al'. He gets a no.
Also rocking a pompadour, Ryan Nisbett lost over a hundred pounds going gluten and dairy free. He sings a Sarah MacLachlan number and gets a sui generis from Jennifer, i.e. "one of a kind." Harry calls his voice incredibly unique and they give him a ticket.
Marialle Sellars closes out the night, and this is actually the second time we're seeing her. Her audition was so good and so unique it was used to kick off the entire season. And it really WAS that good and that unique. Definitely a great way to end the evening. She got a ticket pretty easily.
Detroit saw 40 tickets handed out bringing us to 119 Hollywood-bound contestants so far. This, so far, has been the best city, but Atlanta is coming!
What did you think of American Idol Season 13 Episode 3? Is Detroit the most talented city we've seen yet?
Miranda Wicker is a Staff Writer for TV Fanatic. Follow her on Twitter.