A new season of Teen Mom 2 kicked off on MTV this week, with Jenelle Evans the focus.
Is she now sober? Yes. Is she also living with her mom and little Jace? Yes. Oh… and she's pregnant with Courtland's baby.
Because she doesn't even have custody of Jace (or a home… or a job) , Jenelle doesn't think it would be fair to bring another child into the world. She decides to have an abortion, something Babs actually supports, taking her daughter to the clinic and saying she's proud of her for arriving at this decision on her own.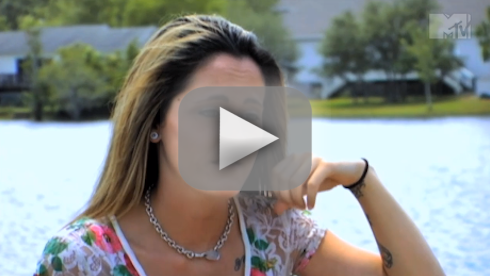 Jenelle really does go through with the procedure, later blaming heroin for her misplaced priorities and vowing to get her life on track, get on birth control and be there for her son.
But this would't been Teen Mom without a blow-up between Jenelle and Babs. This one is over the former seeming ungrateful and only turning to the latter for money.
Kailyn Lowry and her husband Javi Marroquin, meanwhile, have issues of their own: they live two hours apart, with Javi stationed in Delaware.
Kailyn wants to move there (first time anyone has ever felt that way about Delaware!), but can't take son Isaac away from his dad without permission.
Adding to the stress, of course, is that Kailyn is pregnant with Javi's baby, leading to an emotional shower at which Javi says he's blessed to have met both his new wife and her son. Sweet stuff.
The good times don't last, though, because Jo vows to fight Kailyn's move.
As for Leah Messer? She is now raising three daughters after giving birth to a girl named Adalynn. She also learns that little Ali has a rare form muscular dystrophy, meaning her muscles won't hold her weight well as she grows up.
The twins will also be in Cory's wedding, as their dad is getting married to a new woman named Miranda, who seems very open to being a 23-year old stepmother.
Finally, we arrive at Chelsea Houska.
She is now in aesthetician school and is feeling good about her future. Adam just got a new girl, Taylor, knocked up and Chelsea is concerned that another baby will strain Adam's connection to Aubree even more.
It doesn't help when Adam tells Aubree she's going to be an older sister, making it sound as if the half-siblings will actually spend a lot of time together. Chelsea knows better.
So, there you have it, Teen Mom Fanatics. Whose story are you enjoying the most? Can you believe Jenelle went through with her abortion? And did she make the right move?
Matt Richenthal is the Editor in Chief of TV Fanatic. Follow him on Twitter and on Google+.