As Nicole made it back to Salem, Eric finally left the monastery on Days of Our Lives Tuesday.
He'd made a decision. He couldn't wait to share the news and we couldn't wait to hear it.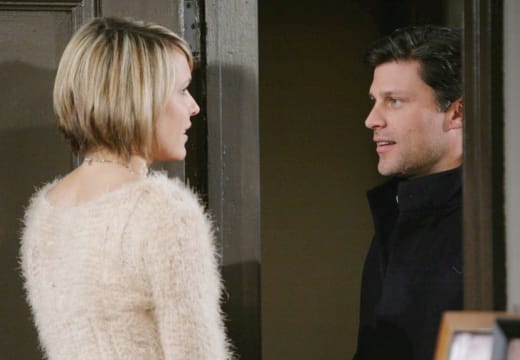 Eric's in love with Nicole. So much so that he's leaving the church and breaking his vow to be a priest. 
I can't really say I saw that coming, at least not quite this soon. I expected it eventually but I thought it would take more soul searching, hand wringing and angst. Then again I don't think I could survive any more time in that monastery. Watching those scenes with Father Timothy for a week and a half was just painful. I'm thanking God that they're over.
But back to Eric and Nicole. I've always thought they belonged together. He's always been Nicole's one true love and Eric ran from Salem when things went wrong between them. 
Perhaps I'm just a little gun shy. I'm afraid to get my hopes up.  Have they finally suffered enough that Days will allow them a happy future? Or will yet another obsbacle be thrown in their way? I doubt we're done with thew angst just yet...but I pray I'm wrong.
Now on to Gabi Hernandez, the stupidest girl in all of Salem. Perhaps in the history of the show. 
Remember last week when I wondered how she could let Nick, a man who manipulated, blackmailed and then tried to rape her, hold her infant daughter?  Well, here is Gabi's explanation, "I didn't know what to do. He was being nice."
I completely felt for Sonny as he looked to the heavens. The girl is an idiot. How do you reason with her to protect herself and her child from this sociopath when all Nick has to do to win her over is be nice!
And I couldn't figure out if Nick's intimidation was working on Kate or not. I really couldn't tell which way she was leaning when Sami stormed in with Gabi. 
Speaking of Sami, I love the darker hair and glasses. If only the new specs let her see the home wrecker she invited to make cupcakes with her son and fiance. But I'm sure that will happen soon enough.
Your turn, TV Fanatics. Am I being too hard on Gabi or is she really a complete idiot?
C. Orlando is a TV Fanatic Staff Writer. Follow her on Twitter.