Love & Hip Hop wasted no time in digging back into the drama this week.
Following the near-fight on Love & Hip Hop Season 4 Episode 13 last Monday, Part 2 of the reunion special picked up with Peter, Amina and Tara on the couch.
Does Amina feel like Tara, Monique asks?
Yes. Peter plays the same mind games with her as he plays with his mistress, she responds, though she admits that her husband has always been honest about loving both women.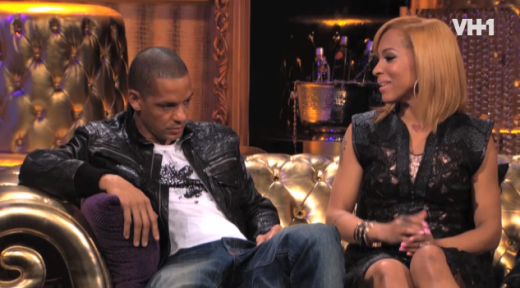 So now it's time for Amina to be honest... SHE'S PREGNANT!!!
Peter leaves the stage upon learning this news, only to later return and insist in speaking to Amina without Tara around. He tells Tara that he's incredibly sorry, only to exit the stage again after making his apology.
Amina finds him backstage during a commercial break, distraught over what he's become.
Good luck topping that shocker, Tahiry and Rashidah! These two are next on stage and they discuss how their friendship fell apart this season.
Why, Monique wondered? It was a matter of respecting oneself, according to Rashidah, who took issue with Tahiry posting scantily-clad pictures of herself online.
Enter Joe. He takes Tahiry's side, claiming the photos aren't so terrible and Rashidah has to stop thinking no man will marry her pal as a result of them. She's a grown woman, isn't she? Why must her friend keep judging her?
The two women depart - after Rashidah threatens to get physical with Joe and Tahiry - and we move on to Saigon and Erica Jean, who are no longer together. All they do is yell at each other and Saigon isn't even willing to change. He says his ex must earn his respect.
But Erica isn't having it. She says she doesn't want that kind of man in her life.
What about Cyn? She knows that Erica and Rich still love each other and she's sick of sharing. It's time for Erica to choose.
So, who will she select? Cyn! Erica claims she's no longer in love with Rich and that he's only capable of loving her when she's involved with someone else. Rich denies this, but it's too late.
Like that bun in Amina's oven, what's done is done.
Matt Richenthal is the Editor in Chief of TV Fanatic. Follow him on Twitter and on Google+.