On Revenge, Emily needs answers, and she'll stop at almost nothing to get them, including flying to Bermuda to see Aiden and then hosting a charity event to get closer to Pascal.
Emily and Victoria faced off in a game of poker on Revenge Season 3 Episode 17. While the prize was a donation to charity, the real game was about Pascal. Except all three of them were playing each other, making their game of Texas Hold 'Em a game of Stand Off.
Conrad manipulated Stevie and nearly drove her back to the bottle while Daniel continued to hate Emily. And Jack. 
Just another week in the Hamptons, right? Watch Revenge online now to see Emily's amazing dress and to catch up on the dramatic goodness!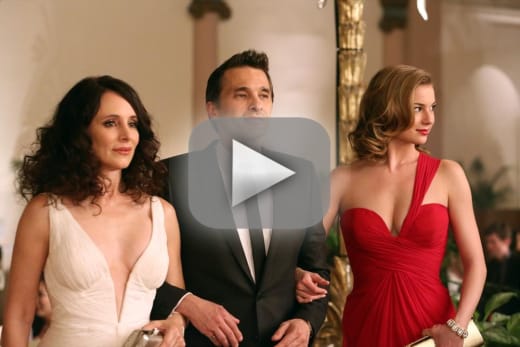 Miranda Wicker is a Staff Writer for TV Fanatic. Follow her on Twitter.