The Tomorrow People First Look: What Is The Machine?!?
Jim Halterman at .
Throughout The Tomorrow People Season 1, we've gotten used to Stephen Jameson getting himself into some big jams.
But the next one definitely seems to be in another league altogether.
We'll see "The Machine" for the first time on Monday's episode of this CW drama - and, in this first look photo from The Tomorrow People Season 1 Episode 19 (which airs April 14), we see that Stephen is going to get caught up in it pretty quickly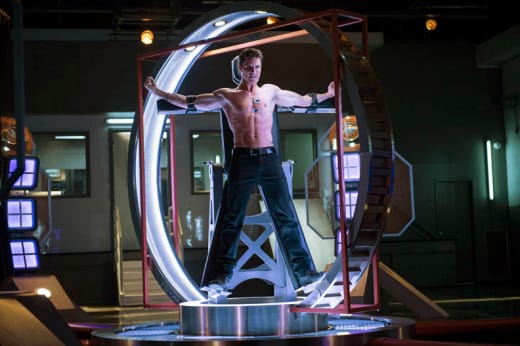 But what is the purpose of The Machine? Is it a good or bad thing for The Tomorrow People's battle against Ultra? Does Stephen get involved because of his quest to find his father? Is Jedekiah somehow entagled?
Is it critical that Stephen be shirtless? (We're not complaining about a shirtless Robbie Amell, mind you).
One thing we can tell you is that The Machine is a major aspect of the stories that will drive us this series toward its climatic finale.
What do you think The Machine is all about? Will it end up being a good or bad thing? 
The Tomorrow People airs Mondays at 9/8c on The CW. 
Jim Halterman is the West Coast Editor of TV Fanatic and the owner of JimHalterman.com. Follow him on Twitter.